Like You, Bella Hadid Is Really Excited About the Gigi x Maybelline Collection
Bella Hadid commented excitedly on the Instagram posts older sister Gigi Hadid uploaded on Friday to show off her new Gigi x Maybelline makeup collection.
---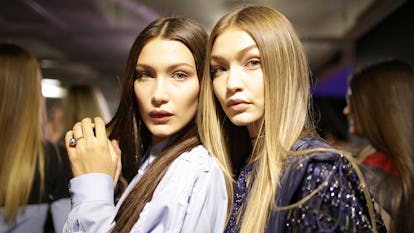 Victor Virgile/Gamma-Rapho/Getty Images
There is no family who is as supportive as the Hadids.
On Friday morning, model Gigi Hadid uploaded a series of photos teasing the Gigi x Maybelline East Coast Glam collection (she revealed the all-in-one Gigi x Maybelline Jetsetter Palette. In response to the first set of photos, younger sister Bella Hadid commented, "Why am I crying in the airport right now ????????? I love you so much. Tears of joy. I am so proud of you!!!!!!" On Gigi's second promo upload, Bella wrote, "I am SO proud of uu!!!!!!!! Omg," and "What an accomplishment my beauty."
Bella has freaked out over her sister's many accomplishments — in both the career and style departments — on Instagram before. Over the summer, when Gigi stepped out in New York City wearing a pink metallic pantsuit that was truly what dreams are made of, Bella lost it, commenting on a fan account that posted a photo of the getup, "GIGI YOU ARE LIZZIE MCGUIRE FINALLY WE DREAMT OF THIS MOMENT (or maybe only I did) HOLT [sic] SH*T YESSSSS @GIGIHADID U R LIFEEEEE."
Gigi, of course, has returned the love many times over. Earlier this month, in honor of Bella's 21st birthday, she posted the sweetest throwback photos of the duo on Instagram. On the eve of the big day, Gigi posted a photo of her holding a newborn Bella, and on Bella's actual birthday, she posted two photos from their childhood and another more recent photograph.
That being said, no one is more supportive than their mother, Yolanda Hadid, who frequently posts images of all of her children with the hashtag #ProudMommy.
Bella Hadid Is the Reigning Queen Of Model Off-Duty Style
Bella Hadid is seen walking in Soho on June 30, 2016 in New York City.

Getty
Bella Hadid leaves the 'L'Avenue' restaurant on October 28, 2016 in Paris, France.

Getty
Bella Hadid is seen in Soho on November 14, 2016 in New York City.

Getty
Bella Hadid is seen in Midtown on February 14, 2017 in New York City.

Getty
Bella Hadid arrives at a party on February 28, 2017 in Paris, France.

Getty
Bella Hadid leaves her hotel on March 1, 2017 in Paris, France.

Getty
Bella Hadid is seen on January 21, 2017 in Paris, France.

Getty
Bella Hadid is seen in the East Village on November 18, 2016 in New York City.

Getty
Bella Hadid leaves the 'RIMOWA' boutique in Rue du Faubourg Saint Honore on March 6, 2017 in Paris, France.

Getty
Bella Hadid is seen at Chelsea Piers on March 30, 2017 in New York City.

Getty
Bella Hadid is seen leaving her apartment in the East Village on April 5, 2017 in New York City.

Getty
Bella Hadid seen on the streets of Manhattan on April 5, 2017 in New York City.

Getty
Bella Hadid on a night out at Sexy Fish restaurant in Mayfair on April 19, 2017 in London, England.

Getty
Bella Hadid is seen in the East Village on April 25, 2017 in New York City.

Getty
Bella Hadid is seen the East Village on April 29, 2017 in New York City.

Getty
Bella Hadid is spotted during the 70th annual Cannes Film Festival on May 17, 2017 in Cannes, France.

Getty
Bella Hadid is seen in Chelsea on May 4, 2017 in New York City.

Getty
Bella Hadid is spotted at the Majestic Hotel during the 70th annual Cannes Film Festival at on May 20, 2017 in Cannes, France.

Getty
Bella Hadid is seen in NoHo on May 10, 2017 in New York City.

Getty
Bella Hadid enters a Noho apartment on June 06, 2017 in New York City.

Getty
Bella Hadid is seen at 'L'Avenue' restaurant on June 9, 2017 in Paris, France.

Getty
Bella Hadid is spotted at the 'Majestic' hotel during the 70th annual Cannes Film Festival at on May 27, 2017 in Cannes, France.

Getty
Bella Hadid is spotted at Airport Roissy Charles de Gaulle airport on June 11, 2017 in Paris, France.

Getty
Bella Hadid is seen in the East Village on June 12, 2017 in New York City.

Getty
Bella Hadid seen on the streets of Manhattan on June 13, 2017 in New York City.

Getty
Bella Hadid is seen at LAX on June 21, 2017 in Los Angeles, California.

Getty
Bella Hadid seen out in Manhattan on July 17, 2017 in New York City.

Getty
Bella Hadid is seen in Paris, France, on June 3, 2017.

Getty
Bella Hadid is seen walking in Soho on July 19, 2017 in New York City.

Getty
Bella Hadid is seen on August 26, 2017 in New York City. (Photo by Ignat/Bauer-Griffin/GC Images)

Ignat/Bauer-Griffin
Watch: Model Gigi Hadid Reveals the Secret to Her Signature Runway Walk