Bella and Gigi Hadid Have Found Their Next '00s Style Icon: Lizzie McGuire
Her sister Bella was very impressed.
---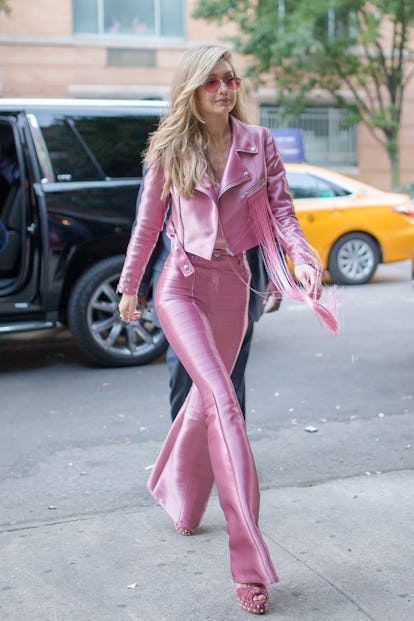 Bella and Gigi Hadid have walked some of the most prestigious runways around the globe, worked with fashion legends and developed striking personal styles of their own, but if you want to know what kind of fashion reference really gets the 20 and 22-year-old excited, well, it's from Disney Channel.
While attending the official launch party in honor of her new collaboration with Vogue Eyewear on Tuesday in New York City, Gigi wore a pink metallic pantsuit that sort of recalled the silvery-blue getup classic Disney Channel heroine Lizzie McGuire picked out for her big debut as an Italian pop star in 2003's The Lizzie McGuire Movie (a cultural touchstone to kids of a certain age). While Lizzie's tight, monochromatic ensemble consisted of a structured bedazzled top featuring a small cutout in the front panel to show off her belly button and a matching pair of majorly flared pants (as would actually be perfect for an Italian pop star in the early '00s), Gigi gave the look a 2017 update, sporting a millennial pink leather jacket with long fringe and silver hardware and high-waisted leather pants that matched Lizzie's in flare and shine.
And although Gigi may not have originally picked out the outfit — from Kreist's seventies-inspired fall 2017 collection — with everyone's favorite early-2000s tween in mind, it was her sister Bella that first pointed out the similarities.
As Elle notes, Bella excitedly commented on an Instagram photo of her sister stepping out in the super-shiny suit on Tuesday, writing, "GIGI YOU ARE LIZZIE MCGUIRE FINALLY WE DREAMT OF THIS MOMENT (or maybe only I did) HOLT [sic] S—! YESSSSS @GIGIHADID U R LIFEEEEE."
This isn't the first time either of the sisters have taken fashion inspiration from the era. Both Hadid have taken to wearing sunglasses that look straight out of The Matrix, they've both dabbled in the sort of early '00s going-out tops made famous by the likes of Paris Hilton and Nicole Richie, and they're into colored lenses that one might recall from something like a NSYNC photoshoot for Tiger Beat. So it was only naturally eventually they'd find inspiration in Hillary Duff's classic character.
Related: Delilah Belle Hamlin Has No Drama with Gigi Hadid
Paris Hilton Breaks Down Her 13 Favorite 2000s Trends, And Why They're Still Hot: