Which Celebrity Has Worn the Tiniest Sunglasses of Them All?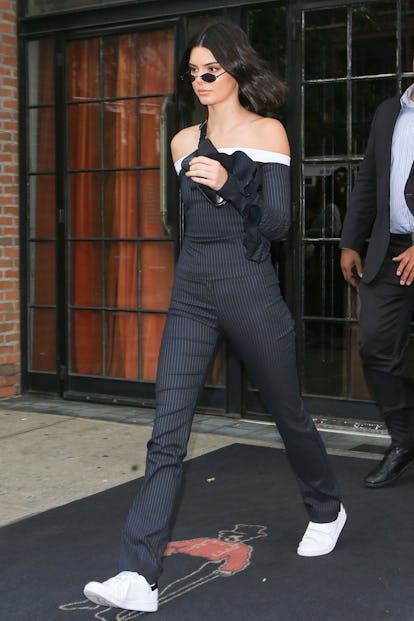 Photo courtesy of Getty Images.
As temperatures rise and summer days grow longer, everyone's sunglasses are only getting smaller… and smaller… and, somehow, smaller. Last year, Bella Hadid (per usual) began spearheading this trend, which has shrunk the frames on the faces of celebrities and Instagram influencers the world over. Rihanna even wore a slender white pair on the Cannes Film Festival red carpet to match her gown. The result is that everyone is Trinity from The Matrix, or Pris, the replicant from Blade Runner played by Daryl Hannah. And this isn't necessarily a bad thing, seeing that both of those characters are some of the most badass female action heroes in movie history, and the epidemic may in be due in part to Kendall and Kylie Jenner's obsession with the classic sci-fi film; in fact, they paid homage to Matrix accessories in a collection for their namesake brand. Anyway, it's a futuristic trend that just won't die, for better or worse. Lady Gaga, FKA Twigs, and Kaia Gerber have naturally hopped on the tiny frames bandwagon, and even Kanye West knows that tiny specs are still the ticket—earlier this year he made sure Kim Kardashian was on trend by telling her via email that large frames are so, so out. Pretty soon, we'll all just be wearing swim goggles.