Cuba Tornado Scott, Granddaughter of Ridley Scott, Is Not Ruling Out a Future In Film Just Yet
Scott, an equestrian-illustrator-model and bona fide sci-fi cinema royalty, discusses 'All the Money in the World' and why she's not ruling out a future in film just yet.
---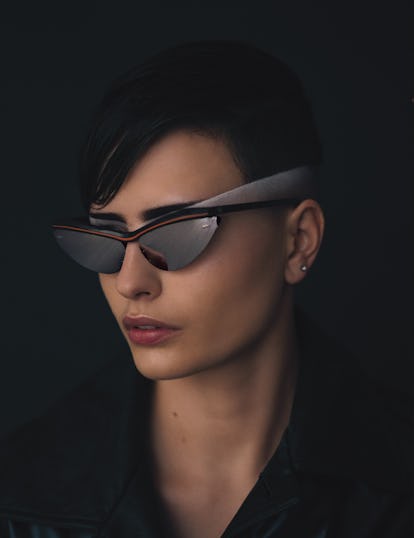 Photograph by Luke Gilford; Styled by Sam Walker; Hair by Evanie Frausto; Makeup by Frankie Boyd for chanel at Streeters; Manicure by Kayo for Dior at De facto; Produced by Spencer Morgan Taylor at Harbinger Creative; Production Coordinator: Serie Yoon; Director of Photography: Htat Htut; photography assistants: Shaun Malkovich, Carey Hu, Justin Newhouse, Brandon Woodruff, Glenn Porter, Matt Fleischmann; Sound Technician: Florent Barbier; Fashion Assistant: Michelle Pelletier; Production Assistants: Alejandro Calcano, Michael Waxer; Special Thanks to Gary's Lofts
Cuba Tornado Scott is the descendent of Hollywood royalty; her parents are music video director Jake Scott and producer Rhea Scott, her grandfather the legendary director Ridley Scott, and her great uncle was the late Tony Scott. But despite growing up surrounded by filmmakers—and being named for the Mikhail Kalatozov documentary Soy Cuba ("Roman Polanski's favorite film," she explained)—Cuba told Vogue Italia in 2015 she "decided to take a different path," continuing, "I don't want to risk living my professional life in the shadow of such cumbersome figures as those of my grandfather, my uncle Tony, or my dad." I asked her about this when we met, at an airy Manhattan loft-cum-photo studio on a brisk December afternoon, and she firmly corrected me: "That's a very premature question, because it could happen at any point."
"Once you've said something," she added, "it's very hard to be like, 'Wait a second, I've changed my mind.'" So that's to say, Cuba's not ruling out a future on screen, or behind the camera, just yet.
The visual world has, naturally, long held some fascination for Cuba, and her aesthetic bears clear traces of cinematic influence. When we sat down, the first thing I asked her was about her look. It's a distinctive one: the eyebrows shaved into immaculate wedges, the half-buzz cut hair that descends to a sharp point at the nape of her neck, eyes and hairline connected by a trace of makeup. Often accented with a hat. It was, she told me, the product of a late-night whim—a decidedly sober one, albeit at 2 a.m.—and executed with the assistance of her boyfriend. Her main references were Siouxsie Sioux, Vivienne Westwood, and Derek Jarman's Jubilee, though given the resemblance to Pris, one of the replicants in her grandfather's film Blade Runner, there might be some Daryl Hannah in there, too. (She has seen the new, Denis Villeneuve-directed Blade Runner 2049. She didn't like it, but don't tell her grandfather that.)
Cuba is an artist, an equestrian (who was once an aspiring Olympian), and a sometime-model; though she does not identify as the latter, her credits include editorials in several international editions of Vogue, a Garage cover, and the Fall 2016 #mycalvins campaign (which also featured Kate Moss, Bella Hadid, Margot Robbie, and pretty much everyone else). Cuba has also worked with a host of renowned fashion photographers, some of whom have been accused of sexual misconduct and abuse of power since we spoke.
But even before I asked Cuba how she felt about the outpouring of narratives of abuse in both the fashion and film industries, she brought it up. "Of course, it's disgusting," she said.
Cuba has observed the effects of the Me Too movement from up close: On a Wednesday in November, she happened to be in her grandfather's office, working on a storyboard for a World Cup commercial, the day he announced that he planned to replace Kevin Spacey with Christopher Plummer in his already-shot, already-scheduled-at-AFI-Fest film All the Money in the World. At that time, Cuba had already seen the original cut in the editing room with her father and grandfather.
"It was mayhem that day," she said of that moment, in December. "People were just nuts. People were on their feet—it was crazy."
Ridley Scott had decided to excise Spacey from All the Money in the World after numerous allegations of sexual harassment and assault were made against the actor last fall, including by Star Trek: Discovery actor Anthony Rapp. For Scott, this decision meant ceding his film's closing-night premiere at Los Angeles's AFI Fest (it was replaced several days later by Molly's Game, the poker drama starring Jessica Chastain and directed by Aaron Sorkin), securing the repeat participation of Michelle Williams and Mark Wahlberg to reshoot the scenes they shared with Spacey, this time with Plummer in his stead, and cutting the film together again—all while maintaining the film's scheduled December 22 release date. (All the Money in the World came out on December 25, and has since earned both Golden Globe and Oscar nominations for Plummer in the role Spacey originated.)
"He's very proud of it and he knows that it's a brilliant marketing standpoint but I think it's also a great show that for once someone is doing something instead of saying it," Cuba said. "To do something physical, in the name of correcting someone's wrongdoing, is really incredible, because that's like a direct cutoff of support."
And, according to Cuba, her grandfather was not shy about calling attention to his feat. During a phone call from London shortly after he made the announcement—a call, ostensibly, to discuss a holiday card, quoting Charles Dickens, she was illustrating for his production company—he asked her, "Did you hear about my decision?" (As if she could have missed it from her vantage in the office.)
So, with role models like that, it makes sense that Cuba is not ruling out a life in movies: "I'm blessed to have been born into that family," she said. "I'm not in denial of that. And I wouldn't shun it."