The New Blade Runner 2049 Trailer Proves Jared Leto's Crazy Contact Lenses Are the Movie's Real Stars
Move aside, Ryan Gosling and Harrison Ford.
---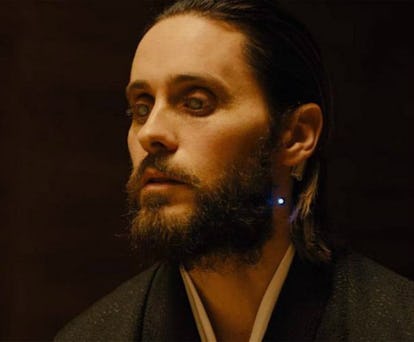 Blade Runner 2049
Jared Leto, whose dual role as an actor and frontman of 30 Seconds to Mars has made him arguably Hollywood's leading eccentric bachelor, has rocked many an out there look over the years. There was that time he had Justin Bieber-like pink hair—and also couldn't stop wearing ponchos; as well as that time he maintained a pristinely green head of hair while playing (and not playing) the Joker in Suicide Squad, a role he method acted to the point that he even started gifting his costars dead rats. (Don't worry: Now gearing up to the release of 30 Seconds to Mars's first album in four years, he's since abandoned all that for a simple man bun.)
Recently, Leto's openness when it comes to playing with his appearance—and particularly to testing the traditional limits of masculinity—has turned him into a Gucci muse, and a personal favorite of the alien-loving Alessandro Michele. Still, it's with Arrival director Denis Villeneuve, whom Leto's teamed up with on Blade Runner 2049, the long-awaited sequel Ridley Scott's 1982 sci-fi masterpiece, that Leto's finally arrived at one of his most eye-catching looks to date—like, Kanye West at the Met Gala in internet-breaking light blue contact lenses level, as the movie's latest trailer readily evidences.
Harrison Ford, playing Rick Deckard, and Ryan Gosling, playing the blade runner-cop, K, who's chasing him down, stole the show in the first trailer—at least when they weren't obscured by explosions. Leto, who has once again found himself in the now familiar role of the unhinged super-villain as Wallace, also made an appearance, but it's in the film's new second trailer, which rehashes much of the material in the first, that we get to admire just precisely how unhinged Leto's character appears to be—or, in other words, stare directly into his newly frighteningly cloudy, pupil-less eyes that definitely foreshadow the evil plan his character apparently has afoot. Have a look below, but don't stare too long: We have a feeling they may also hold the blinding capacities of yesterday's eclipse.
Related: In the New Blade Runner 2049 Trailer, There Are More Explosions, More Ryan Gosling—and a Lot More Jared Leto
Jared Leto Reveals His Crush on Grace Kelly: