Bella Hadid, a Real New Yorker, Says She Takes the Subway
The supermodel is the new face of DKNY, and fits the part nicely. Here, she shares her favorite New York spots.
---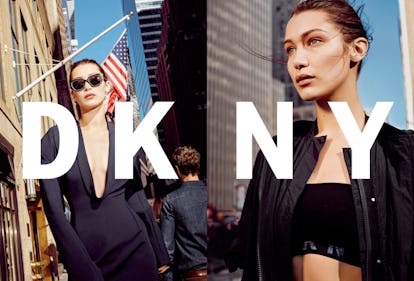 Last week, a series of campaign images revealed that Bella Hadid is the new face of DKNY, the brand founded in 1984 by Donna Karan. It was a fitting choice, as the Los Angeles-born supermodel now considers herself a real New Yorker, thanks in part to the local industry embracing her. In fact, in just a few days she would be walking once again in New York Fashion Week.
DKNY, however, will not be showing this season following the departure of co-creative directors Dao-Yi Chow and Maxwell Osborne. Instead, with Hadid's help, the brand has organized an Instagram-friendly #FindBellaDKNY "scavenger hunt" around the city, where fans were encouraged to find and photograph different campaign images, which were posted at various New York hot spots including a coffee shop, record store, nail salon, bakery, and graffiti mural.
The hunt concluded on Wednesday night at the brand's SoHo store, where hundreds of fans lined up for hours to catch a glimpse of Hadid in person. She entered wearing an all-white, backless sweater two-piece, which she paired with knee-high sneaker boots. Because like any good New Yorker knows, boots are made for walking and looking cute.
Inside, Hadid was ready to brag about her status as a New Yorker. "The coolest part about New York is its style, because its so different for everyone," said Hadid. "You'll walk around and see someone in a crazy underground, dope designer and then you'll see someone in a head-to-toe suit. I feel like it's very rare to find so many different kinds of people from so many different cultures in one place."
Bella Hadid and her sister, Gigi Hadid, were recently spotted at a #nobannowall anti-Trump protest on the streets of New York City, so she's put her walking shoes where her mouth is when it comes to championing for New York's unique diversity. "People do crazy sh-t here," she added. "But in the best way possible."
Hadid now calls the East Village home, but admits that her all-time favorite restaurant is 1 or 8 sushi in Williamsburg, Brooklyn. "I also love Carbone, Ruby's and J.G. Melon," she said. "And there's this little coffee place by my house called Everyman, which is yummy." She's not 21 years-old yet, and didn't offer the names of any bars.
When she's not eating, walking around, popping into some galleries, or hanging out with her friends, she's mostly holed up in her apartment (like the rest of us). "I don't really shop a lot," she said. "I work a lot! I mostly just go to work and stay in my house."
Again though, this is just a sign of Hadid's increasing New Yorker-ness. "Everyone here is really hardworking," she said. "When I'm here, I'm on it. But when I go back to L.A., I feel like I'm on vacation."
The real test though was whether or not Hadid rides the subway like a New Yorker—but she passed that too.
"Of course I ride the subway!" said Hadid with a laugh. "When I first moved here, I only rode the subway. But then things got a little crazy. I had an app, but I still always got lost and ended up on the f–king other side of the world. It stressed me out. But I did it!"
After leaving the event, two teenage girls clutched their autographed DKNY Bella Hadid campaign posters like holy relics as they rode the subway home. "I just want to hang out with her," said one of them. Maybe, if they keep riding the subway, they just will.
Bella Hadid's Top 10 Street Style Looks of 2016
Bella Hadid in Chrome Hearts in Los Angeles, California, August 2016.

GC Images/Getty Images
Bella Hadid in New York, New York, September 2016.

GC Images/Getty Images
Bella Hadid at a Love Magazine party in London, England, September 2016.

GC Images/Getty Images
Bella Hadid in Milan, Italy, September 2016.

GC Images/Getty Images
Bella Hadid at the Victoria's Secret Fashion Show callbacks in New York, New York, October 2016.

Getty Images
Bella Hadid in New York, New York, November 2016.

GC Images
Bella Hadid in Moschino and House of Harlow 1960 x Revolve in the East Village, New York, New York, November 2016.

GC Images/Getty Images
Bella Hadid in Dior in Paris, France, November 2016.

GC Images/Getty Images
Bella Hadid in Givenchy at Charles De Gaulle in Paris, France, December 2016.

GC Images/Getty Images
Bella Hadid in Misbhv in Soho, New York, November 2016.

GC Images/Getty Images