Bella Hadid Wants to Remind Women They Don't Need a Man To Buy Them Diamonds
Who needs romance when you can have jewels?
---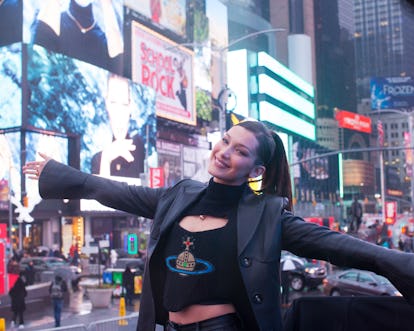 Michael Beckert
While she is certainly no stranger to fronting large campaigns, Bella Hadid still finds excitement in seeing her face on a big screen. Ahead of the unveiling of her billboard for the Bulgari B Zero I collection, the model admitted that she's still thrilled by the opportunity to grace the biggest billboard in Times Square, calling it a "full circle" experience, since Times Square is where it all started for her just a few years ago. "That's when I would have to drive up and do interviews and go to Condé Nast when it was still up here. Now, it's full circle. We're back!" she told W.
In the future, maybe Bella Hadid herself will be the one to direct her own campaign that ends up on a giant billboard in the middle of the city. "I love art direction and I love being creative. I have dreams about the shoots I want to do, and before I go to set I already know the way it's supposed to be and I really love that aspect of our job and the industry," she said. "At the end of the day, every single set is about a work of art and about making the most beautiful photo or video that you could possibly make. For now, this is my passion, but I definitely want to do more of the photography, art direction, video kind of vibe."
Watch: Bella Hadid Goes Behind the Camera
The Bulgari collection also has a special connection to another Hadid (of no relation to the model), with rings designed by the late architect Zaha Hadid, each of which hold a different meaning and embody the legacy of the groundbreaking designer. "The designers are very strong and it's about empowering women. Even empowering men! We can empower everybody," the model told W. "We don't have to be solely about women, but for me, since I'm a woman, of course I want to say let's be strong women together. But I think it's definitely about being able to come together as a whole. If you don't have a man to buy you diamonds, you can be the man who buys the diamonds for yourself," she went on.
It would be impossible to chat with Hadid about jewelry and not discuss the topic of gift giving when Valentine's Day is right around the corner. The model wants you to know that even though jewels may seem like the perfect gift for the romantic occasion, there's also nothing wrong with treating yourself every once in a while. "What's beautiful about this collection is that it's all about a strong woman. It's about a strong woman who can buy her diamonds herself," Hadid said. "If you have a boyfriend that you want to buy you diamonds and jewelry you can [do that], but if you're a beautiful, single woman and you want to buy yourself these diamonds, you can also do that!" she continued. As for her own Valentine's Day plans, Hadid sheepishly revealed she has yet to determine what will be on the agenda for that romantic day. "I'll probably just be with my girlfriends," she laughed. Besides, who needs romance when you have a supportive crew of model friends to rely on instead?
Related: The Best Jewelry for Valentine's Day (Even If You're Single)