Ben Affleck Might Be Done as Batman, But George Clooney Proves That's Not Such a Bad Thing
Ben Affleck might be out as Batman if rumors hold true.
---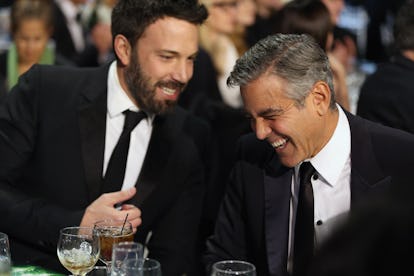 Christopher Polk
Ben Affleck may join the likes of Val Kilmer and George Clooney as an actor whose reign as Batman was over before it even really started. That's at least according to the latest gossip from The Hollywood Reporter.
In the midst of trying to straighten out all the problems with its DC Extended Universe (which is to say, almost everything aside from Wonder Woman and Margot Robbie's take on Harley Quinn), Warner Brothers is considering replacing Affleck all together. He'd appear in the upcoming Avengers-style team-up flick Justice League, but after that a new actor might take the role.
It wouldn't be too much of a surprise. Affleck was originally all in on the role. He was even slated to direct an upcoming standalone Bat flick simply titled The Batman but was replaced in the directing chair by Cloverfield director Matt Reeves. Now he might not even star in it.
Publicly, everyone involved tells the Reporter that there's no such plan, but the trade paper's source says, "that the studio is working on plans to usher out Affleck's Batman—gracefully, addressing the change in some shape or form in one of the upcoming DC films." Those plans could even involve a character besides Bruce Wayne taking on the role of Batman, which could theoretically leave open the possibility of two separate Batmen scowling around Gotham City for a movie or two (there's precedent for it in the comics, but then almost everything has happened to Batman in his 78 years in comics).
The reasons for the sudden reconsideration could be, well, a bit of age and body shaming. Affleck is 45. The rest of the Justice League's core team is played by actors under 40. Reeves meanwhile wants to make a full Batman trilogy, and that would require Affleck to play Batman into his 50s. Meanwhile, Marvel and Sony just had success by reviving Spider-Man as a skinny high schooler. In fact, skinny young leading men seem to be all the rage lately. As Vulture put it this week it's "the revenge of the twink." Affleck may be a lot of things, but he certainly is no twink.
Body shaming aside, this wouldn't be a tragedy for Affleck. It might be a boon for his career, in fact. The man is the director of a film that won Best Picture at the Academy Awards. His career both in front of and behind the cameras certainly isn't attached to his continued success as Batman, and one figures that he'd like to at least get nominated for Best Director himself one day. Suddenly not being tangled up in a giant extended universe gives one more freedom to take on other projects.
Besides, getting cut as Batman certainly worked out for his Argo co-producer George Clooney in the long run. His career has only gotten better since, and, like Affleck, he's also found success as a writer, producer and director. At least Affleck's Batman never had to wear a costume with fake nipples.
Sure Affleck's run as Bruce Wayne might not been quite as rough as Clooney's, but it hasn't been a smooth ride either. His casting was first announced in 2013, and the internet reacted with an almost collective, "wait …what?" There were even petitions calling for his removal from the role. By the time Batman v Superman: Dawn of Justice actually came out however, most viewers response was "Oh, ok, I guess we get Affleck in the role." Of course, casting was the least of many people's issues with that particular movie.
Again this may all be speculation, but that also means speculation over who the next Batman might be has already begun.
Related: Ben Affleck Is Dating SNL Producer Lindsay Shookus
Ben Affleck Takes W's Screen Test: