Proud as a Peacock
Ben Silverman, the young, brash prince of NBC Entertainment, is shaking things up—and ruffling a few feathers.
---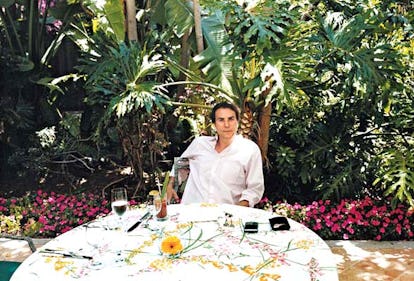 When a network head sits for his corporate portrait, it's normally a tedious exercise: a balding guy in a drab suit and serious tie posing awkwardly for 10 minutes before he's got to be somewhere—anywhere—else. But Ben Silverman is not your typical television executive. Five days into his new job as cochair of NBC Entertainment, the 37-year-old agent-turned-producer-turned-broadcast boss is not ashamed to be standing in his drawers (washboard abs proudly displayed) on the set of his NBC photo shoot. Following the photographer's directives—"Lean forward! That's cool!"—Silverman, after changing into a charcoal suit sans tie, ends up contorted into a coy little ball, his chin resting on his knees. Suddenly a cell phone begins to bleat, its ring tone a refrain from one-hit rapper Mims: "This is why I'm hot. This is why I'm hot." The crew members eye each other nervously—Who forgot to silence his phone?—until Silverman languidly slips out of his kitten pose and answers his mobile.
Roll your eyes if you must, but this is what Holly­wood success looks like today. Ratings are what players like Silverman get paid for—not gravitas or modesty. Even so, when NBC tapped Silverman to be its cochairman (he shares the title with Marc Graboff, a buttoned-down veteran of the network's business operations), many in the TV business were surprised to see an open-collared, Jaguar XKR–driving, party-hopping producer ascend to one of the industry's most powerful posts. Silverman, however, is quite confident that he's up to the task. "I think I am the audience, you know what I mean? I viscerally respond. I am conceptual and a dealmaker," he says, sitting in his new office at NBC. (The place is undecorated but overflowing with congratulatory gifts that include a T-shirt declaring i'm a genius!) "Those are things that usually don't all come in the same package. I am the perfect storm for making a television executive."
Some would argue that it will take a perfect storm to land NBC back on top. The network, after all, is in a serious funk, having finished last in prime-time ratings for the third year in a row. But if nothing else, the appointment has people talking about the peacock again—well, at least gossiping. During the three-week interim between the announcement of Silverman's hiring and his first day on the job, a story began circulating that the delay was due to GE's corporate drug-testing policy. The party boy, it was said, needed time to get the marijuana out of his system. Silverman denies the rumor, but only to a point. "No, no, no. I did not quit smoking pot to take this job," he says. "I'm still single, and I go out with my friends, but it was a nonissue for me. I think it blew out of proportion because I have nice Lucien [Pellat-Finet] sweaters with pot-leaf embroidery and I have some hemp sneakers. The day my deal was done, I said, 'I want to get this freakin' piss test out of the way.' All these people are, like, accusing me of s—."
Silverman grew up in Manhattan with his mom, Mary, a television executive with the BBC, and his dad, Stanley, a composer. He set his sights on the industry in junior high after reading a profile of Brandon Tartikoff, NBC's legendary head programmer in the 1980s, in New York magazine. While majoring in history at Tufts, Silverman spent three summers interning for Warner Bros. and, upon graduation, photocopied his mom's Rolodex and headed for Los Angeles. He crashed at a friend's place while looking for work and, because the AC was busted in his car, took to driving to job interviews in his underwear and getting dressed in parking lots.
Barbara Corday, a former CBS executive who was starting her own TV production company, eventually hired him to be her assistant. "He was extremely young and enthusiastic and very charming," she says. "All the things you read about him now, he was then, only more like a puppy. And who can resist a puppy?"
His very first day on the job she decided Silverman was "too good" to be her assistant. So she gave him the title of manager of development. Later that day, she decided director of development had a better ring.
"I was 22," says Silverman, giving one of his signature smiles, with his eyes open wide and his bushy eyebrows arched high, "and I was basically promoted three times over the course of a day."
When Corday was hired as president of New World Television in 1993, she took her protégé with her, and when she was pushed out a year later to make way for the aforementioned Tartikoff, Silverman stayed on, becoming what he describes as his onetime idol's "go-to guy." In 1995 he jumped to the William Morris Agency, setting up shop in the London office and making his first big splash by putting together deals to adapt European shows like Who Wants to Be a Millionaire, Survivor and The Weakest Link for the American market. "I basically established a monopoly," he says. "If it had an accent, I was involved in selling it."
Having built a reputation as one of reality TV's driving forces, he set up his own production company, Reveille, in 2002, which scored hits like The Biggest Loser. He also used his importing skills to translate The Office (originally a UK smash) and Ugly Betty (based on a Colombian soap opera) for Stateside audiences. Altogether, Silverman-produced shows (the latter two and The Tudors) received 24 Emmy nominations this year.
Word of Silverman's move to NBC first hit Hollywood on the Friday before Memorial Day in a manner that is emblematic of the new media forces that have the networks scrambling. Just before 10 a.m., an e-mail from someone calling himself "theanontipster" arrived on the BlackBerries of reporters, bloggers and industry insiders. It read simply, "Ben Silverman has been offered the job replacing Kevin Reilly." It was the first that Reilly, who was on the distribution list, had heard of his ouster.
The news flash turned out to be a tad premature. NBC Universal chief executive Jeff Zucker and Silverman had been in talks for a week and a half but had yet to hammer out an agreement. Silverman admits the mysterious e-mail "accelerated our negotiations," but he says he had nothing to do with the leak. "Oh, God no," he says. "It ruined my weekend." He was spending the holiday at the Montage, a resort in Laguna Beach that was crowded with Hollywood types. "People were all over me, shooting me e-mails, circling me. I literally had to go in my room and pace on the phone the entire time."
The e-mail leak, Silverman gripes, foiled his publicity plan. "I wanted it to be the cover of The New York Times and The Wall Street Journal," he says with characteristic immodesty. And, he adds, he would have liked to be the one to break the news to Reilly. "I love Kevin and wanted to, at the right moment, tell him about it firsthand."
Despite such statements of goodwill—and despite the fact that Reilly soon landed at Fox to take over its top-rated prime-time schedule—the whole affair has left a bad taste in the mouths of Reilly loyalists. One of the most outspoken has been ABC entertainment head Steve McPherson, a college buddy of Reilly's, who blasted Silverman at an ABC press conference in July for pretending he had nothing to do with Reilly's dismissal. "Was he living in a cave?" he said. "When someone stabs your best friend in the back, you don't buy it."
Silverman, of course, doesn't need the admiration of the competition to succeed in his new role. It might help, however, if he and his boss agreed on a definition of success. Says Zucker, "The goal for Ben is to move NBC Entertainment forward in terms of its viewership and in terms of the number of successful programs he can bring to air." Silverman, however, puts his own spin on it—with less of an emphasis on ratings: "What we are in is the business of television, not the rankings of television. It's going to be hard for broadcast television to sustain its ratings when there are 500 networks and a million competing entertainment options."
Either way, Silverman has been busy during his first few months looking for ways to kick-start the turnaround, whether by announcing that Jerry Seinfeld would return to prime time as a guest star on 30 Rock or adding former Grey's Anatomy star Isaiah Washington to the cast of Bionic Woman. Silverman is also importing another Colombian hit telenovela, whose title translates to Without Breasts There Is No Paradise, about a flat-chested girl who becomes a prostitute to pay for a boob job. On the reality side, he's greenlighted a seventh edition of Donald Trump's The Apprentice, given the Joey Fatone–hosted The Singing Bee a slot on the fall schedule and announced Phenomenon, a version of the Israeli show hosted by spoon-bending mentalist Uri Geller. "I like quality with noise," Silverman says. "Big, big, bold hits, you know, but that also have elements of profound engagement."
Whether they fail or flourish, network entertainment heads tend to have short tenures—Reilly held the job for three years before getting fired; before him, Zucker did the job for four years before being promoted up the corporate ladder—and Silverman isn't planning to spend the rest of his life at NBC. A donor to such Democratic candidates as Hillary Clinton and Barack Obama, he says he wants to eventually "devote myself to public service.
"I may run for office," he tosses off with trademark confidence, "but I also think America needs a chief marketing officer."