Meet the Man Who Makes the Kardashians' Go-To Bomber Jackets
Rihanna, the Hadids and Alessandra Ambrosio are a few of the other fans of Ben Taverniti's Unravel, soon to be available at Barneys New York.
---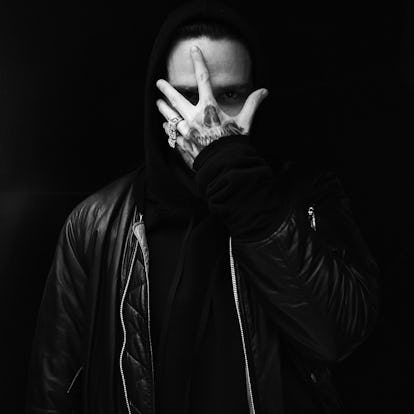 Ben Taverniti, 36, is the creative director and founder of Unravel, a brand that in a little over a year has claimed the go-to bomber jacket for celebrities like the Kardashian-Jenner clan, the Hadid sisters, and Rihanna. Born in Toulouse, France, Taverniti is an international man of luxury who lives by a simple motto, "To create something new you must first destroy." For him, the bomber jacket isn't just a trend — it's a staple, and he's taken it apart and reworked it to fit the modern customer. The success of Taverniti's bombers, hoodies, and leather jackets as well with the celebrity set caught the attention of Barneys New York, which is banking that regular shoppers will follow suit when it starts carrying Unravel this fall. Before Fashion Week, Taverniti sat down to explain the key elements that make up his signature look and why he'll always wear sweats to important meetings.
What year did you start Unravel and why? It was a childhood dream to design my own collection. Unravel launched in February 2015 because I felt fashion was stale. Commercial brands were taking over and smaller designers couldn't handle the financial burden. Unravel is all about destroying and rebuilding, deconstructing a style and creating something new.
Who is the Unravel customer? People who think outside of the box and don't play by the rules.
Celebrities who have worn Unravel: Rihanna, Kim Kardashian, Kendall Jenner, Kylie Jenner, Khloe Kardashian, Kourtney Kardashian, Kris Jenner, Gigi Hadid, Bella Hadid, Hailey Baldwin, Fergie, Laeticia Hallyday, Olivia Culpo, Alessandra Ambrosio, Tove Lo, Sofia Richie, Christina Aguilera, Lil Aldridge.
Three words that describe your style: Timeless, no-conformist, dark.
Style icons/inspirations: Joyce Bonelli, my fiancé, and Kanye West.
Daily uniform: Unravel distressed bomber, Unravel chaos hoodie, Rick Owens tank top, Unravel drop crotch cargos, Unravel rib cage socks, Unravel sneakers/Yeezy 350's.
What you love about the bomber jacket and why you think customers are so drawn to it right now: The bomber is such a versatile piece and gives off that effortless androgynous vibe. I think the bomber is so strong because it's symbolic for disruption and anti-conformity. The great thing about Unravel is to me the bomber isn't just a trend for this season, I strive to reinvent the silhouette season after season. For me it's a season-less essential base. Everyone should have a few in their wardrobe.
Favorite stores in Los Angeles: Elyse Walker, Maxfield, Barneys New York, Resurrection, Book Soup, and Rose Bowl Flea Market.
Where you go for inspiration: Life with Joyce inspires me. We are blessed to be able to travel the world every month to visit and see the most beautiful cities and people. We take a lot of photos while we travel. Collecting these photos allows me to focus on what inspires me and gives me direction in designing for the upcoming collection.
Night out look: I am literally wearing the same outfits every day / night it is my signature… I literally have 10 of everything it is like my superhero suit….
Preferred footwear: Unravel sneakers or Yeezy black 350's.
Beauty secrets: Task face wash and scrub. La Mer, La Mer, La Mer. Shu Uemura "Kendo Feather " paste, Oribe superfine hair spray, Comme des Garçons oOdeur 53 (been wearing it since I was 18).
Best recent discovery: My new favorite restaurant in Milan is Specialità. I'm obsessed with the pizza there and think about it here and when I'm back in L.A.
Style pet peeve: Flip flops. They literally make me angry.
Last purchase: Lorraine Schwartz engagement ring for Joyce.
Lusting after: Harley Davidson Low Rider S Custom by Powerplant Motorcycle.
Most prized possessions in your closet: Rick Owens original dunk sneakers, Nike Yeezy Red October, and an original Bones Brigades t-shirt.
Three things on your most recent mood board: Dolly Cohen Grillz, Marilyn Minter "gold lips," Ari Marcopoulos "Portraits from the Studio and the Street," and Christopher Wool's "If you can't get a joke you can get fuck out of my house."
Would you wear sweats to an important meeting? I have been wearing drop crotch sweatpants for the last five years at least, so absolutely.
How does the Unravel look cater to this current moment in fashion and what people want? Unravel is very much about the anti-conformist looking effortless and timeless. Now that fashion has swayed to the relaxed, model off-duty look, consumers are starting to look for brands that exude that laid-back vibe. I think it also helps that a lot of the well-known models are wearing my collection and people want to get that look and attitude.
Watch W's most popular videos here: