The Best Actress Contenders Had a Group Hug at the Oscars
Legends supporting legends.
---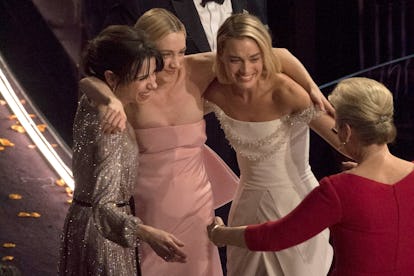 Ed Herrera/Getty Images
Frances McDormand may have won the award for Best Actress at the 2018 Oscars, but her fellow Best Actress nominees did not leave empty-handed. After they lost the award to Frances for her performance in Three Billboards Outside Ebbing, Missouri, Sally Hawkins, Margot Robbie, Saoirse Ronan, and Meryl Streep were all spotted embracing in a group hug. The moment, by the way, was preserved on the Instagram story of one Timothée Chalamet who called them "legendz."
This wasn't the only display of female solidarity that went down at the Oscars on Sunday night — or even the only one involving Meryl Streep. During her acceptance speech, Frances decided to use her platform to celebrate and lift up her fellow women nominees instead. "If I may be so honored to have all the female nominees in every category stand with me in this room tonight. The actors — Meryl, if you do it, everybody else will, come on — the filmmakers, the producers, the directors, the writers, the cinematographers, the composers, the songwriters, the designers," she said. Meryl, of course, was more than happy to do it, and soon the room was filled with women nominees rising to their feet.
"OK, look around, everybody. Look around, ladies and gentlemen, because we all have stories to tell and projects we need financed," Frances continued. "Don't talk to us about it at the parties. Don't. Invite us into your office in a couple days, or you can come to ours, whichever suits you best, and we'll tell you all about them. I have two words to leave with you tonight. Ladies and gentlemen: inclusion rider." In addition to a little gold statue, the Three Billboards actor also left with a standing ovation for her inspiring speech.
Backstage, Frances explained what she meant by "inclusion rider." According to E!, she told journalists in the press room that it's something you put into your contract when negotiating for your film that means "you can ask for and/or demand at least 50% diversity in not only the casting, but also the crew." She also said she had just heard about it last week.
"And so, the fact that we — that I — just learned that after 35 years of being in the film business, it's not…We're not going back," Frances continued, according to E! "So, the whole idea of women trending? No. No trending. African-Americans trending? No. No trending. It changes now, and I think the inclusion rider will have something to do with that. Right? Power in rules." That standing ovation was definitely well-deserved.
Related: Frances McDormand Got All the Female Oscar Nominees on Their Feet During Her Oscars 2018 Acceptance Speech