Frances McDormand Got All the Female Oscar Nominees on Their Feet During Her Oscars 2018 Acceptance Speech
Say hello to your new Best Actress.
---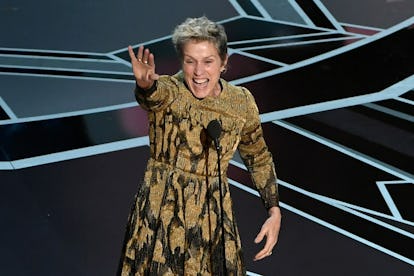 Kevin Winter/Getty Images
Since October, news of sexual misconduct allegations in Hollywood and beyond has surfaced almost daily, so, naturally, this year's Academy Awards focused on the empowerment of the lady honorees. While accepting the Oscar for Best Actress, Frances McDormand put down her award and celebrated her fellow women in the room.
"If I may be so honored to have all the female nominees in every category stand with me in this room tonight. The actors—Meryl, if you do it, everybody else will, come on—the filmmakers, the producers, the directors, the writers, the cinematographers, the composers, the songwriters, the designers," the Three Billboards Outside Ebbing, Missouri star said, calling on a fellow Best Actress nominee for help. As McDormand predicted, as soon as Streep eagerly jumped out of her seat, so did the rest of the night's female nominees.
"OK, look around, everybody. Look around, ladies and gentlemen, because we all have stories to tell and projects we need financed. Don't talk to us about it at the parties. Don't. Invite us into your office in a couple days, or you can come to ours, whichever suits you best, and we'll tell you all about them," McDormand continued. "I have two words to leave with you tonight. Ladies and gentlemen: inclusion rider," she concluded, sending the rest of the crowd cheering and rising out of their seats to give the 60-year-old a (well-deserved) standing ovation.
The need for greater diversity beyond straight white men was evident even during the awarding of the Best Actress statuette to McDormand. Though the award is typically announced by the previous year's Best Actor winner (and vice versa), 2017 Best Actor Casey Affleck chose not to attend this year's ceremony after allegations of his sexual misconduct resurfaced. Instead, previous Best Actress winners Jennifer Lawrence and Jodie Foster handed over the little golden man to McDormand. "It's a new day in Hollywood with new challenges ahead for all of us, but none of us will ever forget who came before us—those who blazed a trail for my generation and those to come," Lawrence said.
Related: Florida Activists Are Using The Three Billboards Tactic on Marco Rubio