Florida Activists Are Using The Three Billboards Tactic on Marco Rubio
"Slaughtered in school, and still no gun control."
---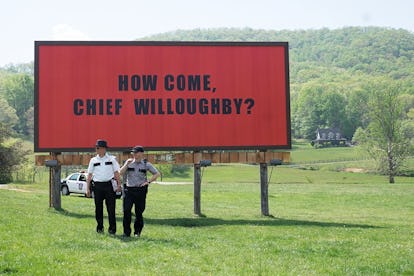 via IMDb.
Responding to this week's massacre at a Florida high school, an activist group is using the public demonstration tactic from Martin McDonagh's Oscar-nominated film Three Billboards Outside Ebbing, Missouri to call out Florida senator Marco Rubio for his inaction on the issue of gun control. Three "mobile billboard" trucks with screens showing black lettering on a red background, as in the film, say "Slaughtered in school," "And still no gun control?," and "How come, Marco Rubio?". Commissioned by the activist group AVAAZ, per Indiewire, the trucks drove around Miami and stopped for a time outside senator Rubio's office in Doral, Florida.
In the film Three Billboards, grieving mother Mildred (Frances McDormand) rents three billboards on the strip of highway where her daughter's body was found that read "Raped while dying," "And still no arrests," and "How come, Chief Willoughby?" in a bid to put pressure on the police department in Ebbing. In this case of life mirroring art mirroring life, AVAAZ is calling attention to a real tragedy by using the iconography of a film that, while fictional, was inspired by real billboards that writer-director McDonagh saw many years ago driving through the American South, per Slashfilm.
"If we do something, it should be something that works. And the struggle up to this point has been that most of the proposals that have been offered would not have prevented, not just yesterday's tragedy, but any of those in recent history," Rubio said on the topic of gun control, according to The Hollywood Reporter. "Just because these proposals would not have prevented these does not mean that we therefore raise our hands and say, 'Therefore, there's nothing we can do.'" The article also reports that he has taken a little over three million dollars from the NRA to date.
Related: Three Billboards Director Responds to Backlash: I'm "Not Making Films for Six Year Olds"