Jennifer Lawrence and Jodie Foster Will Present the Best Actress Oscar In Lieu of Casey Affleck
This is how the Academy is handling the Casey Affleck issue.
---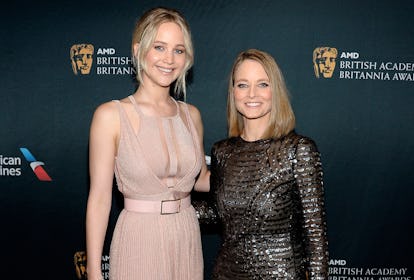 Photo by Kevork Djansezian/BAFTA LA/Getty Images For BAFTA LA
Jennifer Lawrence and Jodie Foster will present the Academy Award for Best Actress at Sunday night's Oscars, a break from tradition that solves the sticky Casey Affleck issue, per Page Six. Typically, the acting awards are presented by the previous year's winner in the opposite gender category (i.e, Best Actress is presented by last year's Best Actor, and vice versa).
The tradition became something of a sticking point last year when Brie Larson, who swept awards season in 2016 for her performance in Room, ended up presenting both the Golden Globe and the Oscar to Casey Affleck for his performance in Manchester By The Sea. Larson is an outspoken advocate for victims of sexual assault; she played a sexual abuse victim in both Room and Short Term 12, and made a point of hugging each and every rape survivor who appeared with Lady Gaga during Gaga's performance of "Til It Happens To You" at the Oscars. When Affleck, who was accused of sexual misconduct on the set of I'm Still Here and reached an out of court settlement with his accusers, began winning, many noted that it was awkward if not problematic for Larson to present him with awards. Notably, when he took home Best Actor last year, Brie didn't clap, a subtle sign many at home certainly took notice of.
As the Time's Up and #MeToo movements have taken off, Affleck has largely stayed out of the spotlight, and sidestepped the issue of potentially appearing at tomorrow's Oscars by taking himself out of consideration for a presenter position. Wisely, the Academy has chosen to fill his spot with two women who have won the award before, Foster and Lawrence.
The Best Actor category, too, will be presented by two legendary actresses. Instead of last year's Best Actress winner Emma Stone (who is slated to present at another point during the telecast), the winner will be announced by Jane Fonda and Helen Mirren. But even as the Academy and the industry take steps to elevate women and center discussions of harassment and inequality, the night may still be plagued by the specter of abuse. Fonda and Mirren will likely be handing the statuette to Gary Oldman for his performance in The Darkest Hour. Oldman has been accused of domestic violence.
Related: Helen Mirren Talks About Sexual Misconduct and #MeToo on Sunday Today
[#article: /articles/5a906b0de9cff16a6c3be3b8]||||||