The Best New Eye Creams Coming Out This Month
La Mer, Sisley, Harold Lancer, and Julie Russak are all releasing products in March that incorporate new technology with tried-and-true methods.
---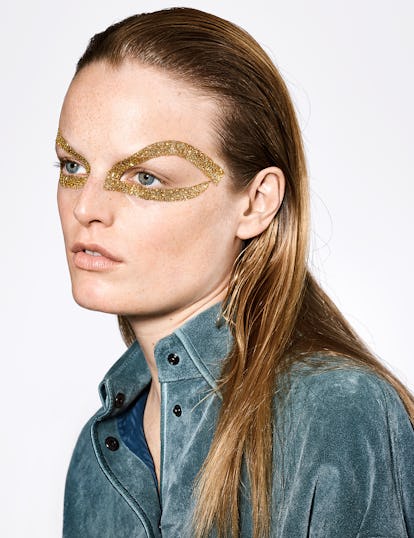 Photograph by Richard Burbridge; Makeup by James Kaliardos; Hair by Ward.
Nothing lasts forever. Not even your effective eye cream.
The eye is under constant pressure—blinking an average of 28,000 times a day, surrounded by delicate skin that contains less moisture for support compared to other areas of the face. Under the eye especially requires extra attention and elevated care.
When searching for your next eye cream, two key elements should always be considered. The first is rotation. As any beauty expert will tell you, to truly reap the benefits of any skin product, specifically for the eye area, a periodic product rotation is key to wake up the skin. Second, with rotation in mind, you must decide what product you'll be trying next. While this is a personal choice that comes from trial and error, we'd like to remind you that unless you're running a pharmaceutical lab out of your basement, skimping on the quality of an eye cream should never be an option. This month, four new eye creams have launched (or are launching), each unique in their composition and each coming with the promise of delivering visible results. We've featured them below, for the moment when you're down to the last pats of your beloved eye cream.
La Mer Eye Concentrate just launched this week, and is a revamped iteration of the original, which happens to currently be the number one–selling prestige eye cream in America. The product is advertised as bringing forth a brighter, smoother, and more stable eye area in 21 days of use. Why it works: a triple amount of Concentrated Miracle Broth from the previous version, with two additional advanced mixtures; Clarity Ferment, (brightening molasses and Recovery Kelp to diminish dark circles), and Lime Tea Concentrate, which is the brand's signature antioxidant to protect the eye area against environmental damage and pollution.
Developed to gratify the hyperobsessed Black Rose Mask devotees, the latest from Sisley's Black Rose skin-care line is the Sisley Black Rose Eye Contour Fluid. This product, which was released just last week, is meant to smooth out the eye area with Aqueous Black Rose extract and Padina Pavonica extract (a brown algae that acts as a sort of scaffolding for the skin, holding tissues together). The new fluid helps keep the eye area hydrated with Vitamin E acetate and has anti–free radical properties. Why it works: Red vine extract brightens the eyes; caffeine tones, decongests, and reduces puffiness; and chlorella (green algae) extracts and helps restore hydration.
From the powerhouse New York dermatologist Julie Russak comes the latest CBD antidote for puffy, tired eyes, Chill Out CBD Eye Gel. This vitamin-enriched composition of anti-inflammatory peptides heals any damage around the eye area from sun, stress, and environment. Why it works: A time-released proprietary blend with CBD and arbutin (a skin-brightening agent) and L-ascorbic Acid (high-grade vitamin C) stimulates collagen in the eye area.
The celebrity dermatologist Harold Lancer is about to launch his namesake Lancer 3D Hyaluronic Eye Serum, which is formulated to treat dark circles, dullness, and visible puffiness. Lancer, whose roster of A-list clients include Beyoncé, Jennifer Lopez, and Kim Kardashian West, created this serum primarily to help reduce any need for more aggressive options to treat the eye area. Why it works: There is a combination of SuperOx-C from the Australian Kakadu plum (a fruit containing the highest source of vitamin C) to brighten the eye area, as well vitamins B3 and E to act as humectants and combat any damage from blue light, UV, and free radicals.
Related: Gwyneth Paltrow's Eyebrow Expert Kristie Streicher on Brow Etiquette