The Best Plastic Surgeons By Body Part from Around the World
Whether you're looking for a tweak to your nose, or a full neck lift, here are 10 plastic surgeons to know now.
---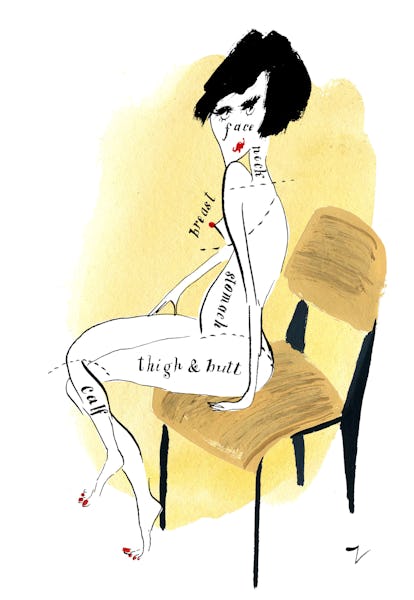 Flat rump? Post–baby bump? Somewhere in the world there's a doc who can fix that. Here, a guide to the 10 best plastic surgeons around the world.
Forehead A-listers from as far as London and Los Angeles head to the Sydney cosmetic physician Joseph Hkeik for his finesse with fillers. A trained sculptor, he approaches faces with an artist's eye and claims he can erase 10 years in one session. (allsaintsskinclinic.com)
Eyes The ophthalmic plastic surgeon Naresh Joshi is fashionable London's go-to guy for eyes, period. It's all he does. A self-described obsessive-compulsive perfectionist, Joshi specializes in complex procedures—and has performed more than 15,000 surgeries. (bupacromwellhospital.com)
Nose Rising rhinoplasty star David W. Kim, a San Francisco surgeon, attracts tech titans, West Coast socials, and other highfliers with his technical virtuosity and conservative approach (ski jumps, after all, are so 20 years ago). "A good rhinoplasty looks like you were born with it," he says. (drkimfacialplastics.com)
Cheeks Santa Monica plastic surgeon Chia Chi Kao's endoscopic Ponytail Facelift involves very little cutting and virtually no pulling. Kao re-drapes skin and soft tissue vertically and uses tiny stitches to tighten underlying muscles. He then contours and volumizes with a fine layer of regenerative-cell-rich fat taken from the patient's own body. (kaoplasticsurgery.com)
Lips and Chin The Euro jetset flocks to Antonios Paraskevas, who splits his time between Paris and his native Athens, Greece. With a background in advanced reconstructive surgery, he's known for some of the best lip and chin sculpting money can buy. (doctorparaskevas.com)
Neck London's Dirk Kremer eradicates "turkey neck" with a combination of liposuction and something called the iGuide neck lift, which uses long needles and thread to weave a "net" that helps support sagging jawline muscles. (harleystreetaesthetics.com)
Breasts In Brazil, where plastic surgeons are often as famous as the people they operate on, it's refreshing to find one who prefers to stay under the radar. Benjamin de Souza Gomes Filho, whose office is located in Vitória, a quick flight from Rio de Janeiro, works on oodles of celebs, models, and moguls—but you'd never know it. His way with breasts, in particular, is gorgeously subtle. (centrodecirurgiaplastica.com)
Stomach After an "abdominoplasty flankplasty" by West Orange, New Jersey, body-work maestro Scott Spiro, his yummy-mummy patients often end up looking better than they did pre-pregnancy. And it's not all about appearances: Afterward,"they can hold a plank longer than they could before they had children," he says. (drspiro.com)
Thighs and Butt "There's a revolution going on in buttock surgery," says Constantino G. Mendieta, a Miami plastic surgeon who hits mostly below the belt. "Ten years ago, surgeons didn't look at the area artistically, but now everyone wants a prettier, shapelier butt." His own posterior paradigm? Instagram belfie sensation Jen Selter. (constantinomendieta.com)
Calves and Ankles Many Korean women eschew muscular calves (cankles are practically outlawed) and seek out calf reduction or leg-slimming procedures. Excellent clinics abound, but Dream Plastic Surgery, in Seoul, turns out some of the shapeliest gams in town. (en.e-dream.co.kr)
Read more about the best plastic surgeons: Everything You've Ever Wanted to Ask a Top New York Surgeon
10 Celebrities Who've Quit Botox and Fillers Throughout the Years
Jane Fonda Loved Turning 75—Thanks to Her Ex Husbands