Everything You've Ever Wanted to Ask a Top New York Surgeon
What's your feeling about fat injections? Is liposuction the gold standard? How do you prevent bruising after a facelift? Gerald Imber answers those and other pressing queries for the surgically inclined.
---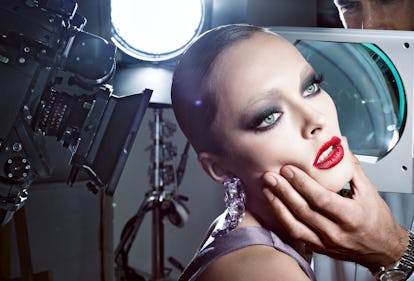 Gerald "Jerry" Imber is one of the top plastic surgeons in New York City. Responsible for some 4,500 facelifts, he's often credited as the pioneer of a procedure called "The Lift." On the side, he writes books, first the best-seller with the snappy title, The Youth Corridor, and later a biography of the early New York surgeon William Stewart Halsted, the man who later inspired Steven Soderbergh's Clive Owen drama The Knick. As his new Youth Corridor product hits the shelves, the good doctor took a break from his famed lunches at Michael's to answer a few questions about his secrets to the fountain of youth. A little hint: lots of vitamin C.
We cover your new Youth Corridor Ultimate Antioxidant C Boost Serum in our April issue. Why is vitamin C the wonder ingredient? It undoes photo damage, and works on the realigning and thickening of collagen. Collagen formation needs to have ascorbic acid (a.k.a. vitamin C) to function. If you don't have it, you get something called scurvy. That's why they had limes on British sailing ships.
But you're also into it for its sun protective qualities? If you put Vitamin C on your skin and go out in the sun, you get a little less sunburn than if you didn't. Add vitamin E to the equation, you get even a little less sunburn. Now, if you put C, E and melatonin on, you'll get exponentially less sunburn. That said, I could not determine specifically how the melatonin works to activate the C. It enhances it, they work symbiotically, but no one knows how because the sum is so far greater than the parts. Melatonin is an antioxidant as well but somehow when it's put together with C and E, it's terrific. Both are in my C Boost Serum.
Well, that's a good start. I can also tell you that from anecdotal experience from patients, if you have herpes on the lip, use the Boost and it's gone in a day or two.
Why are you looking at me when you say that..? Niacinamide is another interesting ingredient (it's also in Boost). There have been a whole bunch of studies that prove it offers enormous protection against basal cell carcinoma when ingested. It's been this year's top story in medical news. We don't know if it works topically, but it doesn't hurt and it was no big deal to add to the formulation. I actually felt a few years ago that most products on the market didn't do a damn thing, but now they actually do.
Tell me about your Youth Corridor clinic. It has everything a medi-spa has—lasers, peels, injections—but I see every patient, chart their course and send them on to the appropriate person on my staff.
Explain the term "Youth Corridor." It is a way of saying to patients, "I want to help you look virtually the same from 35 to 60." It's a corridor. It's kind of [like] tunnel vision: If you listen to the things I say and take this path, I promise you're going to look a lot better than your twin sister who didn't. Also, I had the good luck of having a book of the same name being a bestseller, so I couldn't change the name after that.
What do you recommend patients do to their skin before treatments? The Renultimate and the C Boost Serum are good preps for lasers or significant peels, because everyone knows that a retinoid preps you for both.
Even up to day of treatment? Yes. I don't really have a problem with using moisturizer. Moisturizer is moisturizer.
And are you the kind of doctor who recommends arnica to help healing after surgeries? I don't believe in any of that.
So, what do you tell your patients to take to prevent bruising? Nothing works but vitamin C—and we're not sure how much that works.
Topically? No, orally. I don't believe in any of the herbs and roots and all that, but when we see patients pre-op, we get an entire list of every supplement they take because so many cause bleeding, so I prefer they have a clean slate. Post-operatively, my attitude is not to let patients use anything for ten days. Maybe a little gentle moisturizer after five or six days, but only what they used before. This is not the time to change products, because if something happens and you get swollen—[it's] not good. Then, if anyone's not using our Vitamin C Boost, we put them on it beginning three weeks after surgery, just for skin to kind of settle in and to make sure they're not having a reaction to anything. We always recommend whatever's right for the patient. It doesn't have to be our stuff. Of course, there are those who use the products three times a day instead of once because they think it's better, but it's not. At some point, even the most balanced product becomes irritating. PH of your skin is a little under 5, and if you keep adding acid to it, you're getting crazy.
Well, people get desperate when it comes to skin care. They do, but it's pretty simple. There are only a couple things that work: Exfoliation, vitamin C and retinoids.
What in-office procedures are you excited about and what is bulls—? Do you like Cool Sculpting [the fat reduction procedure]? I was afraid you would go there. Cool Sculpting works, but you cannot control how much it works and where it works. I have no experience with it because I insist on seeing long-term results, but my understanding of it is that it does dissolve the fat. And in 18 or 20 weeks after you use it, the fat is gone in that area, but you don't know what the percentage of fat reduction will be, and it may not be the same in serial places and no one ever gets the results they want in one pass. It just doesn't happen. And for most people, it's a series of exercises and you end up spending the same amount time and money that you could've spent on liposuction — maybe more—not to mention three to four times the amount of time. I wanted to like it.
So liposuction is still the gold standard for you? Without a doubt. And what's the new stuff you inject?
Kybella? Yeah. It dissolves fat, but how do you know? One is just injecting the substance into the fat, you're taking away the governor. You're taking away control. You can't just inject something and expect it to turn out the way you want it to turn out. Life doesn't work that way. Yes, it's a step forward, but I wouldn't let anybody do that to me.
You don't want to ever hear your doctor say, "Oops!" Once you've done too much, you can't put the genie back in the jar. And all these gadgets kind of lose sight of that fact. I want to like them. I want to like all of the skin tightening lasers. We have them, we've used them periodically in our practice, but we're not using them now because they hurt, and patients come back three months later and say, "The effect is gone." Of course, the effect is gone!
So what are you excited about? Not a hell of a lot. I've done over 4,500 facelifts, and I keep making the incisions smaller and smaller.
Who's the ideal patient? Someone younger who doesn't have a road map of wrinkles but rather some laxity, slack. That laxity of the cheeks and jawline is corrected primarily by tightening the muscle.
What's your feeling about fat injections? I've been doing a lot of different things with fat transfers that I really love. For example, I've almost stopped doing regular, traditional chin implants, but do fat injections in the chin instead. It doesn't hurt, the post-op course is nothing, the absorption of the "take" of the fat graft by injection in the chin is enormous. It's so much better there than the rest of the body because the chin is all muscle with a great blood supply, so most of the fat graft takes permanently.
Are you injecting fat under the eyes, too? Yes. I'm removing much less fat from the lower eyelid area and regularly filling in the tear trough with little drops of fat. This can usually be done in the office setting using topical anesthesia and a very fine needle
How long does fat last? What takes lasts forever. That's the whole deal. However, some of the areas we transplant fat don't have good blood supply. Only fat that finds a blood supply stays.
So, you take the fat from the butt? The butt or the belly. Some think belly fat has higher stem cell count, and may improve permanent take. Taking from the belly hurts more, but if a butt is too skinny, we take from the belly.
How invasive is it? If we take about 10-15 cubic centimeters, which will cover every spot on the face, you won't even see it on your butt. Or, your belly, since it's removed through the navel. But no bruising on the face except if you're filling in the tear trough, because of the enormous amount of capillaries there. Every place else on the face rarely bruises.
So, best to do on a Friday and you're good to go on Monday? Yeah. You may still be a little black and blue on the butt, but who's checking?
This Just In: 10 New Spring Beauty Products to Try Now
Watch W's most popular videos here: