7 TV Shows From 2020 That Actually Deserve Your Attention
There's much on television that's raved about, but is, in fact, mediocre—here are seven gems that quietly flew under the radar this year.
---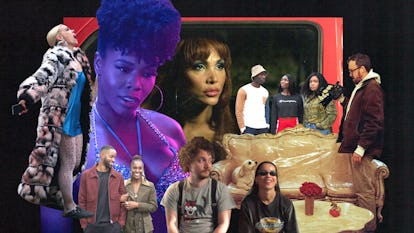 Collage by Maridelis Morales Rosado for W Magazine.
W is doing something a little different for our "Best of…" lists this year. It seems fitting that such an atypical 12 months deserves a new kind of recap. Instead of ranking our favorite songs, albums, movies, and television shows, we've assembled a list of moments in arts and culture that defined 2020. We're calling them "Silver Linings"—the most exciting creative feats that brought us joy during an otherwise tough year. We're also listing our favorite live performances, collaborations, and production stunts that seemed impossible to execute during the pandemic, carried out by creatives who saw limitations as an opportunity to innovate.
At this point, it goes without saying that there is too much content. The sheer volume is overwhelming—and the demand for such an abundance, (especially during a pandemic, when most people have been stuck at home in front of their screens,) can result in the majority of shows, movies, and limited series being mediocre at best. But the conversations surrounding what's on television would have you thinking most of what's recommended is a can't-miss work of art. But is it actually worth the watch?
Take a moment to think of the number of tweets you saw just a few weeks ago urging you to watch The Undoing, or go all the way back to the beginning of the pandemic when no one could shut up about the exploitative poverty porn that was Tiger King. And don't even get us started on the discourse surrounding Emily in Paris.
Ask yourself: were any of those shows actually satisfying, or were you just held hostage in your home by a virus, and had nothing better to do but to binge-watch everything on your list anyway? Your time is still valuable and you don't have to spend the holidays trying to catch up on something that is not actually worth the energy. Instead, why not try watching some gems that make up some of this year's most overlooked and underrated series on television?
I Hate Suzie
This hidden gem of a series aired on the other side of the pond months ago before landing stateside on HBO Max. Yes, the logline says it's a show about a former child star (Billie Piper) and the disastrous consequences of a phone hack, but I Hate Suzie is really about the prismatic experience of being a woman who has to be something for everybody, until she finally breaks and decides she's going to try to be someone for herself. People with taste know about I Hate Suzie (Killing Eve star Jodie Comer even dressed up as the titular Suzie Pickles for her W TV Portfolio interview) and if you want to consider yourself one of them, you'd better get to streaming.
P-Valley
With P-Valley, you can pay a visit to a world you may have never actually been to before: a strip club in the storied Mississippi Delta. From the mind of playwright Katori Hall, P-Valley is incredibly atmospheric, but it also includes some truly spellbinding acrobatics (though even those who have not sought out a Southern strip club know it's the chicken wings that keep customers coming every night). It is rare to see a story about sex work and exotic dancing that does not gloss over the dangers of the profession, and simultaneously holds the utmost respect for those who are a key part of it; for that, P-Valley is worth the watch.
Insecure
What was going on that made so many people overlook the fourth season of Insecure? It premiered mid-April, when lockdown was becoming increasingly more real and the coronavirus curve approached a peak, so maybe the timing was unfortunate. But it's still lowkey—no, highkey—disappointing that people decided to drop off from watching the show when it seemed to have finally found its footing. For a series that people once complained was too try-hard, Insecure provided some of its most solid narrative progression during the fourth season. It was brave enough to break up the besties at the core of the series, and Jay Ellis (you may know him as Lawrence) even made his directorial debut this season with an episode centering on Molly and her new boyfriend Andrew that felt realer than anything else on TV at the moment it aired. It also ended with a real cliffhanger of a finale that hardly anyone saw coming. Hopefully that will convince enough people to catch up before season five.
High Fidelity
We're still wondering why High Fidelity was canceled abruptly after just one season. It had generally positive reviews from critics and audiences, so it must have been low viewership that did it in. But it was a cool, determined remix of an old classic, and it really did have potential to grow into something even more refreshing if it was given the chance of a second season. Instead, we just have to consider ourselves lucky we'll get to see the return of High Fidelity's Scottish heartthrob Thomas Doherty to the small screen when he shows up on yet another reboot-but-not-really-a-reboot on HBO Max next year.
Veneno
There is admittedly a Pose-size hole in my heart, and thanks to the coronavirus, the third season will not be able to fill it until next year. In the meantime, there is a Spanish-language series called Veneno airing on HBO Max, about the life and death of Cristina Ortiz Rodríguez—also known as La Veneno—a transgender singer and television personality from Spain. So far, it's flying a little bit under the radar, and I honestly can't believe I didn't know about this icon and legend until the series aired.
How To With John Wilson
There's nothing else on television right now quite like How To With John Wilson. Advice on how to split the check, cover your furniture, and cook the perfect risotto make up the contents of the episodes of this docu-series that is narrated by John Wilson, an anxious filmmaker meditating on everyday life and its awkwardness. If you like the droll amusement of Nathan for You, then you will probably enjoy the stream-of-consciousness narration, juxtaposed with B-roll in How To With John Wilson (which is, coincidentally, co-executive produced by Nathan Fielder).
I May Destroy You
This is technically not as overlooked as some of the other shows mentioned above, but despite being a very talked-about, highly praised series, it seems that every week I run into another person (not literally—come on, it's a pandemic) who admits they have not yet watched I May Destroy You. I May Destroy You is the rare case of a piece of popular art that is not overhyped or underrated. It is appropriately rated as a critically acclaimed masterpiece, and it would be bonkers to finish a year-end list of television shows that defined 2020 without mentioning this essential viewing from the brilliant Michaela Coel. Honorable mentions go to HBO's Industry, Hulu's PEN15, and HBO Max's Search Party, all of which aired seasons this year that achieved critical acclaim, but it seemed like not enough people actually set aside time to watch them.