Betsey Johnson's Mexican Villa Is Available to Rent
Fashion designer Betsey Johnson posted her Mexican home on Airbnb, where you can rent the luxurious property for more than $600 a night.
---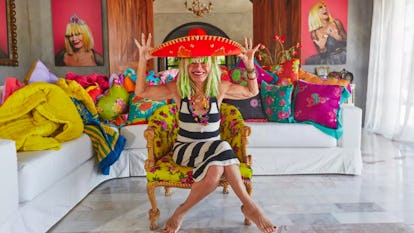 Courtesy of Airbnb
Of course, Betsey Johnson, queen of sugar and spice and everything nice, owns the spring break destination of your dreams. It seems that the fashion icon has taken her design talents to the world of interiors and real estate, as she's now offering a Mexican home, named BetseyVilla naturally, for rent on Airbnb.
Available for $618 a night, the property (first spotted by Refinery29) is in Zihuatanejo, Guerrero, Mexico, about 30 minutes south of the Zihuatanejo airport, according to the listing. The listing also says, "The property is a fusion of old and new; a tribute to the life of Betsey Johnson and all of her favourite things."
If you thought that you would be roughing it in a small Mexican town, you would be wrong. A concierge is at your disposal for the duration of the trip, with luxe amenities that include "onsite meal preparation, coordination of visiting chefs from around the world for private dinner parties, in house yoga instruction, in house spa treatments, ATV trips, horseback riding, surf lessons/trips, snorkeling trips, diving trips, yacht charters and more." The home also features a large pool and lounging terrace, a fully equipped exterior kitchen with a grill and ice machine, and an exercise room (complete with elliptical machines, free weights, yoga mats, and TRX with a steam room). Even Sonos and Netflix are provided. If guests want to venture away from all that to enjoy the tropical sunshine, they'll have private beach access and two beach huts awaiting.
For those who dare to spend any more time indoors, there are four bedrooms, six baths, and multiple pictures of your host in every room. Overall, the decor is much more understated than that of Johnson's homes in New York City and Malibu, though still colorful enough to brighten up any Mexican vacation.
Related: Flashback: Betsey Johnson
See What's Trending in W Video: