Beyoncé and Other Celebs Can't Stop Making Ugly Christmas Sweaters
Beyoncé, Joe Jonas, 2 Chainz and Whoopie Goldberg all have their own branded ugly Christmas sweaters.
---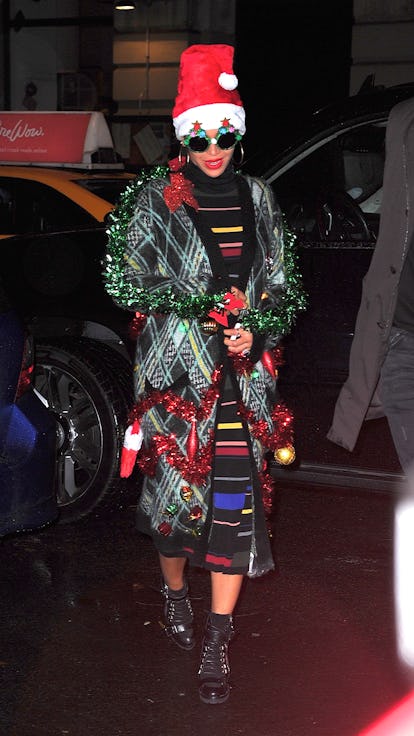 GC Images
There is no hotter fashion statement — or, to be perfectly accurate, anti-fashion statement — this time of year than ugly Christmas sweaters. For the nostalgia-loving millennial, no holiday social calendar is complete without at least one ugly sweater-themed party.
Though, what does one do if one doesn't actually own a beloved old tacky yarn top? What if no one in your family knits? What if your grandmother had actual taste and knitted sweaters that are objectively fetching? What if you grew up in some humid, sweater-free zone like Florida, as I did? What then?
Of course, most fashion houses aren't exactly in the business of selling purposefully tacky novelties, and not everyone can spend their time combing thrift stores for that perfect embroidered reindeer-festooned garment. Thankfully, celebrities have come to the rescue. In fact, it seems anyone with an IMDB page or an Instagram follower count over one million are designing their own branded ugly sweaters.
There is perhaps no greater celebrity lover of the ugly holiday sweater than Beyoncé. She debuted her first try at ugly sweater merch in her video for "7/11," and was spotted last year leaving her office Christmas party in perhaps one of the tackiest holiday getups we've ever seen. Because when Beyoncé chooses to do ugly, she's going to do ugly right. Now she's back again with another Christmas sweater release on her official webstore.
For sixty bucks you can get your own "I Sleigh All Day" hoodie in red or green. There're also matching sweatpants, but perhaps you would opt for the Beyoncé-patterned gift wrapping she's selling as well.
Ok, maybe they're not the ugliest things, but if you want truly tacky, then late-in-life fashionista Whoopie Goldberg has your back. She's partnered with department store Lord & Taylor for a full line of sweaters, debuting them earlier this month on The Tonight Show with Jimmy Fallon.
The woman knows a thing or two about divisive sweaters. She was spotted wearing Vetement's "May the Bridges I Burn Light The Way" hoodie on The View earlier this year. Come to think of it, someone out there is surely missing an opportunity by not releasing a "May Rudolph's Nose Light The Way" parody sweater.
Meanwhile, a host of bands and musicians have partnered with CapThat to produce a line of sweaters to benefit Musicians On Call. Sam Hunt, Trey Songz, and Sara Evans have all taken part, but perhaps the most notable is from the Joe Jonas-lead band DNCE.
Perfect for those who want non-Grandma approved ugly Christmas sweaters, no?
What if you prefer hip-hop? Great. Indie rap group Run The Jewels took the opportunity to release "Run The Yules" sweaters, naturally.
Nas also has his own ugly Christmas sweater. A portion of the proceeds goes to benefit Center For Court Innovation, a prison reform non-profit.
If you like your out-of-fashion memes smashed together into one unholy present, you can also get 2 Chainz's "Dabbing Santa" sweater which comes in various limited-edition colorways. Proceeds benefit the rapper's Atlanta-based T.R.U. foundation.
Suddenly you have more ugly Christmas sweater options than you have actual ugly Christmas sweater party invites. Thanks, celebrities!