Beyoncé Breaks Spotify Record As the First Woman with Three Albums to All Surpass a Billion Streams
And she would probably have broken more if it weren't for her husband Jay-Z.
---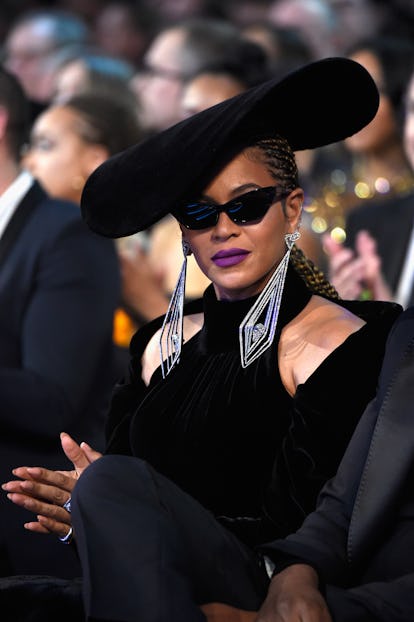 Kevin Mazur/Getty Images for NARAS
It's just over a month into 2018, and almost two years since the release of Lemonade, but Beyoncé has already broken yet another music record. The pop icon has just become the first woman to have three albums surpass a billion streams on Spotify, as MTV points out. The album which put Beyoncé over the top was her 2011 power ballad album 4, which just hit one billion streams. The underrated album, which gave us "1+1", "Run the World (Girls)," and "Love on Top," trails behind 2008's I Am… Sasha Fierce and her opus, 2013's eponymous visual album. Just the latter two of those 4 songs have garnered 400 million streams combined.
The most impressive thing about Beyoncé's latest feat though is that she broke the record without even having her entire discography on Spotify, as she's remained loyal to her husband's streaming service TIDAL since its 2015 launch. One of her albums currently missing from Spotify is her most recent, Lemonade. It's notable, too, because Beyoncé achieved iTunes' fastest-selling album ever with the surprise release. Plus, Lemonade was 2016's highest-selling of the year with 2.5 million copies sold by the end of it, according to Billboard.Lemonade also marked Bey's sixth No. 1 album on the Billboard 200, and set a new record for having six No. 1 albums in a row.
If we're going to talk about records Beyoncé has smashed we'd be here all day, but this latest adds to a pile that includes earning the most Grammys as a female artist in one night (she won six in 2010 during her "Single Ladies" era, which Adele tied in 2012) and belonging to one of the best-selling female groups of all time, Destiny's Child, according to People.
Considering Beyoncé has new music in the works, it may not be long until she breaks a new slew of records. Last year, Jay Z revealed that he and his wife had been spending a lot of time in the studio together as "therapy" in the wake of the rapper's infidelity. "We were using our art almost like a therapy session. And we started making music together," he said, confirming that they have a joint album in the works.