Beyoncé Just Announced the Winners of Her Formation Scholarships
OK, ladies, now let's get educated.
---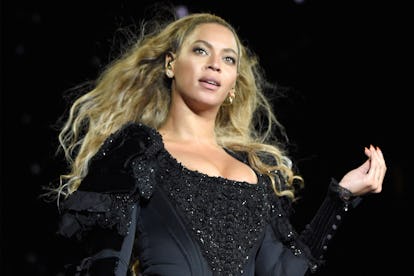 Kevin Mazur/Getty Images
On April 24, to commemorate the anniversary of her masterpiece album Lemonade, Beyoncé Knowles announced the first Formation Scholars awards to be awarded to young women studying either African-American studies or creative art at four different arts schools and historically black colleges and universities (HBCUs): Berklee College of Music, Howard University, Parsons School of Design, and Spelman College. Each school selected one winner per school by a committee, and students with GPAs over 3.5 submitted essays about how Lemonade inspired her in her work.
Today, Beyoncé announced via her website the four winners, and they are so deserving and impressive. Three of the winners are focusing on artistic studies: Sadiya Ramos, a Sophomore at Berklee College of Music whose focus is dance and has trained and studied with the Harlem Dance Theatre and the French Academie of Ballet, Avery Youngblood, entering her second year at Parsons, who is studying graphic design, and Maya Rogers, a graduate student at Howard who is also a singer and songwriter.
Like Beyoncé did with Lemonade, these women are using their arts to make a real difference. Avery is finding ways that her design work can intersect with her undergraduate degree in Linguistics and Comparative Studies in Race and Ethnicity, from Stanford, and Maya's music has helped her recover from a brain injury she sustained four years ago. Meanwhile, Bria Paige, a rising Junior at Spelman, is the fourth winner and something of an academic superstar. She's in an honors society, an honors program, on the dean's list, Secretary of Academic Affairs on her student government and co-president of the English club.
Congratulations to these amazing and inspiring young women who are helping to create the next generation of thought-provoking work!
A 7-Year-Old Interviews Katy Perry