Beyoncé Instagrams Her Perfect Toni Braxton Halloween Costume, Complete With Pixie Cut
Naturally, it was flawless.
---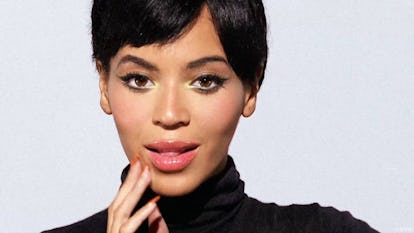 YouTube
There are many queens of Halloween but no one takes that title quite like everyday queen Beyoncé, whose commitment to the holiday knows no bounds. This year, Beyoncé dressed up as yet another one of her favorite musicians: Toni Braxton.
Beyoncé proved that the secret to dressing up like a celebrity is narrowing it down to a super specific moment and look. For hers, she chose the cover art for Braxton's first single from her debut self-titled album. The 1993 artwork for "Another Sad Love Song" has Braxton flashing her profile to the camera in a white tank top with a leather jacket hanging off her arms, and the Chanel logo dangling off her ears. Not to mention, she also wore a pixie cut for the occasion. Beyoncé not only recreated the look flawlessly, she also struck the same pose with similar writing added onto the shot. "Phoni Braxton," she dubbed the look, adding in her caption that it was an homage to the singer. "Sending love and adoration to one of our talented legends," she wrote on Instagram. "Thank you for the countless bops. Your tone, your beauty, your range, and your God-given talent is treasured. Loving you always. Have a Happy Halloween my Kings and Queens."
Last year, Beyoncé nailed not one but two Lil Kim looks, which Jay-Z accompanied her for while dressed as the Notorious B.I.G. Other pop cultural figures she's cosplayed? Salt-N-Pepa with Blue Ivy and Tina Lawson and Janet Jackson (with Blue as Michael Jackson).
Not long after Bey posted her "Phoni Braxton" look the real Braxton expressed her love for it. "Phoni Braxton!? NEVER!!!," she wrote on Twitter. "How do you look better than me on MY album cover? I LOVE IT, Such a superstar! Thanks for the love sis! Happy Halloween ? Who run the world…GIRLS! GIRLS!"
Interestingly, Toni Braxton and Beyoncé's history is a complicated one. Back in 2002, Braxton accused Bey and Jay of stealing Tupac's "Me and My Girlfriend" sample, which became the backbone of the power couple's hit "03 Bonnie & Clyde." "I've been in the business 10 years, now I got these new up and coming divas trying to steal my mojo and I'm like what's up with that?," Braxton said at the time. "We gon' fight this. I'm disappointed. It's a code of ethics." (Both Jay and the track's producer Kanye West later denied that they had heard Braxton's version.)
Then, several years later, when asked if she feels any pressure to keep up with younger stars like Beyoncé, Braxton replied, "Nope, well I don't consider Beyoncé to be younger. She's younger than me but she was up in the '90s, when I was up, in Destiny's Child so she's been doing the game for a long time and she's still maintaining. I love her." When she was asked who was the most talented out of Rihanna, Ciara and Beyoncé (a question, pitting female contemporaries in the industry against each other, that never should have been asked), Braxton said, "Beyoncé! It's not even a question. I'm sorry girls, I love Rihanna and I love Ciara. But Beyoncé is the most talented."
Clearly the adoration is mutual.
Related: A History of Beyoncé and Jay-Z's Family Halloween Costumes