All the Celebrity Halloween Costumes of 2018: The Good, the Bad, the Confusing
From Bella Hadid and The Weeknd's take on Beetlejuice to Chrissy Teigen as the queen.
---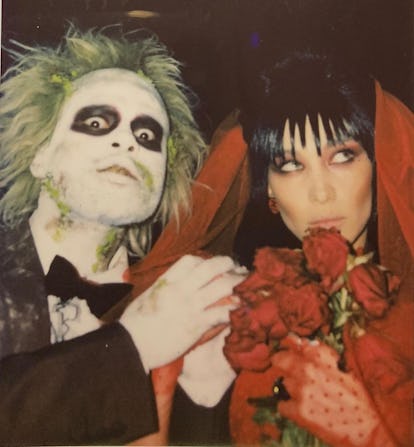 Courtesy of @bellahadid
Halloween may technically be on October 31, but thanks to it falling on a Wednesday this year, we got a whole Halloweekend and a weekday full of costumes—particularly in the case of celebrities, who can mostly party away without worrying about going into the office the next day. From the wonderfully bizarre, like Jessica Simpson dressing up as Danny DeVito, to the more on the nose, like Kim Kardashian going as a mid-'90s Pamela Anderson and upholding the tradition of celebrities dressing as celebrities, and not one, but two Morticia Addams, here's everyone we recognized participating in 2018's marathon run of costumes:
Newlyweds Gwyneth Paltrow and Brad Falchuk seemed to have a ball dressing as Ally (Lady Gaga) and Jackson Maine (Bradley Cooper) from A Star Is Born, even if there's some out there who swear Paltrow's own Country Strong is a better version of the basic Star tale. Here's hoping their relationship doesn't also share the pair's trajectory.
Beyoncé and Jay Z got sporty, dressing as the very '80s Olympian Flo Jo and fellow Olympian Tommie Smith, who made history with his Black Power salute during his medal ceremony in 1968.
Heidi Klum upheld her title as Master of Halloween by transforming herself into Shrek.
John Legend followed up on dressing as Prince Charming for his daughter, Luna, a princess, before doing a costume change for his wife, Chrissy Teigen, who was none other than Queen Elizabeth II.
After reminding the world that he's Sophie's Turner fiancé by dressing up as Sansa Stark, her character from Game of Thrones, the pair twinned as members of the Addams family.
Unfortunately for Turner, it turns out that no one can do Morticia better than Kate Moss.
Paris Hilton became the first person in history to ever dress as a "sexy moth."
Meanwhile, her sister Nicky Hilton dressed as, well, Paris Hilton.
Gigi Hadid kept it simple, doing her own makeup to be a dressed-down jack-o'-lantern.
Meanwhile, her sister Bella didn't skimp on the costume as Lydia, flanked by Beetlejuice, who beneath all that makeup turned out to be The Weeknd.
In other sibling model news, Presley and Kaia Gerber teamed up to be Joan Jett and the Runaways.
Please, please cast Lupita Nyong'o as Dionne Davenport in the Clueless remake.
With the help of her husband, Chris Fischer, Amy Schumer stayed in comedian mode.
Time to prepare yourself for an onslaught of Kardashians, who seemed to have a who-can-wear-the-most-costumes competition. Let's start with the youngest, Kylie Jenner, who joined her sisters in dressing up as a Victoria's Secret Angel—as well as her daughter, Stormi; a Fantana; and not one, but two different Barbies.
Kim Kardashian didn't have so much luck with her stint as Pamela Anderson; she reportedly had to repeatedly explain who she was to youngins like Jaden Smith. (She later retaliated by calling them "too fucking young" and, um, "retarded" on her Instagram Stories.)
Kendall Jenner dressed as a fembot from the Austin Powers movies.
Kourtney Kardashian stepped out as a Pete Davidson–less Ariana Grande.
Even their spawn joined in on the fun, with Saint West and Reign Disick teaming up as Kanye West—complete with Yeezy Boosts—in his music video for "I Love It" with Lil Pump. North West and Penelope Disick also teamed up as still and sparkling water, and Khloé Kardashian helped her daughter, True Thompson, into a unicorn outfit for her first-ever Halloween.
Rounding out the generations, mama Kris Jenner was a very sparkly Cleopatra.
Moving on from the Kardashian-Jenners, Martha Stewart definitely perfected her makeup, but there's still no word as to who exactly she was supposed to be.
Fergie put a new spin on a classic Power Ranger ensemble by accessorizing with an "angular Balenciaga bag."
Marc Jacobs and his hot candlemaker fiancé Char Defrancesco once again went all out, seemingly showing their good faith in their lasting relationship as two geezers in their twilight years.
Jessica Simpson and her husband, Eric Johnson, also opted for a couple's costume, as Danny DeVito and Arnold Schwarzenegger.
Gabrielle Union went full ska as Gwen "Just a Girl" Stefani.
Camila Mendes and Lili Reinhart of Riverdale were Pedro and Napoleon from Napoleon Dynamite.
Jessica Alba and her business partner Kelly Sawyer rocked the prehistoric chic as Wilma and Betty from The Flintstones.
Jaime King was a…star princess? Glitter queen? She had a crown.
Taylor Hill was a disco hippie.
Chloë Grace Moretz and Kaitlyn Dever fulfilled our dreams of a Tonya Harding–Nancy Kerrigan pairs skate:
Honestly not sure what sisters Rumer and Scout Willis are here. Cowboys? Butch Cassidy and the Sundance Kid, except they both have mustaches? There's a reference here, and we are missing it. Sorry.
Meanwhile, at the second Casamigos Tequila Halloween party (Friday night's was in Los Angeles, Saturday's was in Las Vegas)…
George Clooney made an appearance! He and Rande Gerber were co-pilots for Spirited Airlines (har har har), while Cindy Crawford was their hard-working flight attendant. Normative, but we will allow it:
Technically, Frankie Grande may have beat out everyone by dressing as everyone… aka the universe.
As for our celebrity Halloween costume winner? Soko, nine months pregnant, as the Virgin Mary.
Related: Casamigos Halloween Party 2018: A Rundown of All the Celebrity Costumes