Clueless, the Movie, Is Getting a Remake With Girls Trip Writer Tracy Oliver
And Girls Trip writer Tracy Oliver is involved.
---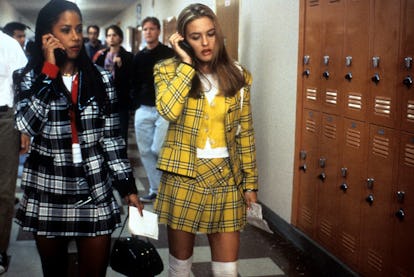 Paramount Pictures/Getty Images
Given how many memes (and outfits) it continues to inspire to this day, few movies have the cross-generational appeal and continued relevancy of Clueless. That's why the beloved classic is being remade — not to be confused with the upcoming musical version that director and writer Amy Heckerling is handling. A new film version of Clueless is in the works at Paramount and, even though it's super early, it already has a solid team behind it.
Tracy Oliver, who wrote Girls Trip, becoming the first African-American woman to pen a movie grossing over $100 million domestically, will be producing the upcoming reboot. She will be joined by writer Marquita Robinson, who's lent her voice to Glow, You're the Worst, and New Girl, as Deadline confirms.
As sacred as the 1995 original is, a remake with new perspectives definitely has the potential to be a hit. Outside of the talent involved, even, the story — based on Jane Austen's Emma — is a timeless one. Plus, the idea of the world getting another female-led film is something to celebrate. (Especially one being handled by female writers, considering a recent study found only 13.8 percent of writers are women.)
Oliver celebrated the news on Twitter, writing, "Crazy excited to be producing a new take on one of my favorite movies of all time, #Clueless, with the hilarious and super talented @MarqRobinson writing it!!! As. If." The in-demand writer is also working on a more diverse version of the First Wives Club.
Little else is known about the Clueless remake as of now — like if any of the original stars will appear in it or how the plot will shift. But the world is being kind to Clueless fans. Before the remake happens, we will soon receive a musical rendition of the film — which previews November 20 and opens December 11 in New York City at the Alice Griffin Jewel Box Theatre — which Heckerling has written music for. As for why she thinks Clueless endures: "You know, the main character's good-hearted," she's said. "There's not a lot of people that are making stories about somebody that's really nice." Soon, though somebody else will once again.