A First Wives Club Reboot Is Coming to TV Courtesy of Girl's Trip Co-Writer Tracy Oliver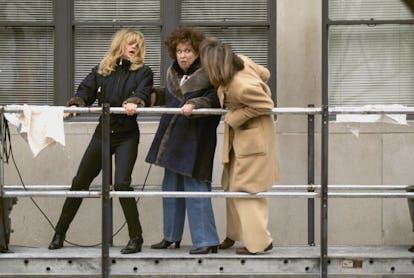 Richard Corkery/NY Daily News Archive via Getty Images
TV will be getting a lot funnier come early next year. That's because the new year is bringing a series adaptation of the beloved '90s film First Wives Club. Tracy Oliver, the co-writer behind the wildly hilarious 2017 breakout film Girl's Trip, will be handling the script, which means that plenty of laughter is in store. Paramount Network will be home to the new TV show, Deadline reports. While there is not yet a premiere date, Paramount Network debuts January 18, taking the place of Spike TV. As for whether or not the original dream team cast of Diane Keaton, Bette Midler and Goldie Hawn will be making appearances, that has yet to be announced. What little details are known is that the show will be based in New York City, like the film, and will similarly revolve around a group of revenge-oriented women in the wake of their divorces.
Considering only 42 percent of speaking characters on TV are females, according to a recent study by San Diego State University, a new show about female solidarity couldn't be better timed. The show will also give Oliver a much-deserved new platform, as the writer recently became the first African-American woman to pen a film that grossed over $100 million, as Deadline notes. On Twitter, Oliver signals that fans can expect a diverse take on the original.
This isn't the only female-centric show that Paramount has in the works. The network also recently landed a new series based on the original Mean Girls, the 1988 film Heathers starring Winona Ryder and Christian Slater. The remake will instead feature Grace Victoria Cox as lead character Veronica Sawyer and James Scully as her male counterpart. Though Shannen Doherty, whose original character was dethroned by Ryder's, will be making guest appearances as a not-yet-revealed character, Deadline reports. As for other overlap with the original, the new TV series apparently has at least one iconic line in it – "f*ck me gently with a chainsaw" — as the promo touts.
Plus, Paramount is bringing to life American Woman, a TV series that traces the journey of Real Housewives of Beverly Hills's Kyle Richards. Alicia Silverstone, who plays Richards, will be starring alongside Mena Suvari and Cheyenne Jackson, Deadline reports. All three series will reportedly be hitting TV next year. Until then, revisit this First Wives Club gem below.
Related: What a Horrible Week for Sarah Jessica Parker's Classic Characters
Diane Keaton Through the Years: