Dove Cameron is the Clueless Musical's New Cher
Meet the woman who'll be carrying on Alicia Silverstone's legacy.
---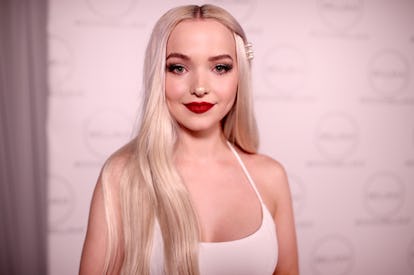 Christopher Polk/Getty Images
Two years after it was announced, Clueless the musical has found its Cher. Actress Dove Cameron, best known for her days on the Disney Channel and 2016's Hairspray Live! will be suiting up in Alaïa to play the '90s heroine.
She'll be joining Dave Thomas Brown as Josh, and Zurin Villanueva as Dionne, Sophie Aardema as Tai, Justin Mortelliti as Christian, Lori Alan as Miss Geist/Ms. Stoeger, Sara Andreas as Heather, Gilbert L. Bailey II as Murray, and Will Connolly as Travis, to name a handful. It won't be until December 11, 2019 until audiences will see just how the classic film was adapted into a series of song and dance numbers, complete with lyrics by Clueless writer and director Amy Heckerling, as Playbill notes.
So far, there's little other info out there on the musical, like whether or not we'll be seeing songs like "She's a Full-On Monet" and "Ugh, As If!" What we do know is that the musical "reimagines '90s hits into ingenious parodies and yearning monologues for her lovesick characters." "I've written what they call 'the book,' and it's a jukebox musical," Heckerling said back in 2016 to Entertainment Tonight, as Variety noted at the time. "Everything goes so slowly. I thought movies took a long time."
The melodies for the music will be taken from '90s songs, she revealed later. "It's a jukebox musical," she told MTV the same year. "It's as if the '90s was one year, and we're taking songs from the '90s and playing with the lyrics to make them tell the story. We just had a sing-through/read-through the other day, and it went really well. They're just wonderful young actors. A lot of them are coming [to the retrospective]… The producers did Jersey Boys and Urinetown — they're very big, mega-successful musicals."
Heckerling also gave her opinion on why Clueless' popularity endures, saying, "You know, the main character's good-hearted. There's not a lot of people that are making stories about somebody that's really nice [laughs]. I mean, of course, there are superheroes, and they're super-nice, doing all sorts of good stuff. But a regular person that you would tend to hate, because she's beautiful and rich and young, and then you go, 'Wait a minute. What if that person was really nice?'" One thing that hasn't changed in the 23 years since the film came out? The world's need for more good-hearted characters.
Related: The Devil Wears Prada Musical Is Being Soundtracked By Elton John