Clueless, the Musical Is Coming, Whether You Like It or Not
Broadway's obsession with teen flick nostalgia is unstoppable.
---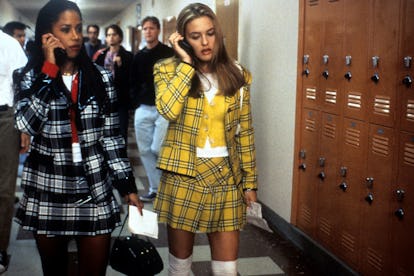 Archive Photos/Getty Images
Clueless is just the latest teen cult movie to receive the Broadway treatment. Amy Heckerling is bringing her 1995 retelling of Emma, the 19th-century novel by Jane Austen, to the stage as Clueless, the Musical.
Taking a cultural touchstone and turning it into a musical is definitely trending right now, and it has been for the better part of a decade—witness Mean Girls, Heathers, Cruel Intentions, and Legally Blonde before it. Now another musical stage adaptation of an iconic '90s time capsule is on its way. At this point it wouldn't be surprising if The Breakfast Club, Ferris Bueller's Day Off, or 10 Things I Hate About You were next. And while it's not the Criterion Collection, Off-Broadway could be a step in the right direction for this classic '90s film.
Clueless, the Musical has been added to the 2018–2019 roster at The New Group, an Off-Broadway theater company, and Heckerling—who also directed the 1980s classic Fast Times at Ridgemont High—will write the score, which "reimagines '90s hits into ingenious parodies and yearning monologues for her lovesick characters." As in the film, those monologues could turn this stage adaptation into an instant classic. Only a character like the seemingly vapid but ultimately well-intentioned Cher Horowitz could spin a last-minute debate assignment into a riveting speech about refugee crises and immigration policies, and if done right, it shouldn't read as too cloying on stage.
Clueless, the Musical will follow a spoiled, plaid suit-wearing Cher Horowitz as she shops through Beverly Hills, parties in the Valley with her best friend Dionne, plays matchmaker for Tai, and crushes on Christian, the new guy at school. Names of musical numbers have yet to be released, but fingers crossed that "Everywhere in L.A. Takes 20 Minutes," "This Is an Alaïa," "She's a Full-on Monet," and "You're a Virgin Who Can't Drive" will make the cut.
It sounds like there could be some real potential, but one plea must be made: A "Rollin' With the Homies" number is essential for this show to be truly blessed.
Related: Alicia Silverstone Wore Cher's Iconic Clueless Plaid Suit for Lip Sync Battle