Who Is Char Defrancesco, Marc Jacobs's Hot Candlemaker Fiancé?
Meet the mysterious former model who just got engaged to the designer in a Chipotle.
---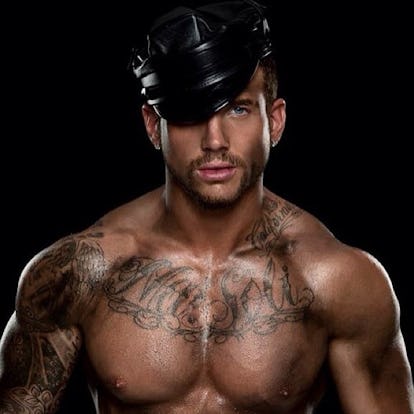 Photo by Mike Ruiz, courtesy of @chardefrancesco.
On Wednesday night, Marc Jacobs once again made the case that he's fashion's most fun designer when he got engaged to his longtime boyfriend, Char Defrancesco, via a flash mob in a Chipotle, his setting of choice for the proposal.
If you follow Jacobs's personal Instagram, you've no doubt spotted Defrancesco on your feed; the designer has posted a seemingly endless amount of grams of their jet-setting, often beachside life together, which seems to be full of "gags" like the Chipotle proposal. But besides the obvious—a sense of humor and a set of chiseled abs—there isn't too much out there about Jacobs's fiancé, begging the question: Who is Char Defrancesco?
For starters, his full name is Charly, though only Jacobs seems to call him that. It's unclear when exactly they started dating, though Jacobs, who's 54, split up with his previous partner, the adult film star and model Harry Louis, in 2013, and began publicly hanging with Defrancesco in late 2015; after they spent New Year's Eve together, it wasn't long before Defrancesco was social-media-declaring Jacobs his "bae.")
Marc Jacobs's First Kiss Was With a Girl, But It Was Just for Show:
Long before that, though, Defrancesco, whose first language is French, was growing up partially in Switzerland, where his parents owned a boarding school. He moved when he was three years old, spending most of his time in L.A. After studying political science at UCLA, Defrancesco switched gears and decided to open a retail store targeted toward "hip and trendy dads"—just when the economy crashed. He switched over to modeling in New York before heading back West to bartend; he also went through a breakup that led him to redesign his closet, prompting a new career pivot into interior design.
All that info comes from a rare interview Defrancesco did with Fashion Week Daily about his candle line, which he started simply to save money after he realized he was apparently spending more on candles than on rent, before deciding to make it into a business. Called A Bougie Candle by Char Defrancesco, the line so far has two scents—Lit and Bae—and has fans like Naomi Campbell.
Soon afterward, Defrancesco met Jacobs and became a jet-set partner to the designer—last year, the website Gay Star News posted a story titled "14 Times Marc Jacobs and his Boyfriend Flew by Private Jet and We Wept." They spend a lot of time in Paris, but also make forays to St. Barths, which is where he and Jacobs teamed up with a few friends to quite impressively re-create the "orange mocha frappuccino" scene from Zoolander. (For the record, Defrancesco said they make "silly videos" because they're just fun guys, not because of, you know, drugs.)
Dig into Defrancesco's amateur videography and you'll find a clip of RuPaul's Drag Race queens lip-synching to "Big Spender" from Sweet Charity, which he organized as Jacobs's Christmas gift. (He also made a more official appearance in front of the camera last year when he made a cameo on the Netflix series Sense8.)
As you may be able to tell from his chiseled torso, Defrancesco was, once upon a time, a model—one who seemed to specialize in underwear. A quick look at Instagram proves that he still, of course, has the muscles—which he showed off when he arm wrestled Jacobs's ex at Kate Moss's birthday party earlier this year—thanks to a regimen including skiing, wakeboarding, yoga, and regular trips to Equinox.
Since dating Jacobs, Defrancesco has naturally gotten increasingly into fashion: His initial reaction to Jacobs' dad sneakers, for example, was "Those are the ugliest effing sneakers I've ever seen," but has transitioned to "These are the ugliest effing sneakers I've ever seen, I need them in every single color." He's since sat front row with Jacobs at what was surprisingly the designer's first-ever Chanel show, and now also seems to count Moss and Campbell among his friends.
These days, Defrancesco shares a townhouse in the West Village with Jacobs, and often accompanies him on the red carpet—usually with a green juice or vape in tow. Vaping is just one of the couple's mutual loves: they also share an appreciation for tattoos, Drag Race, Balenciaga, dogs, and #MalePolish. (Not to mention any other forms of matching.)
Related: Marc Jacobs Got Engaged, Thanks to a Flash Mob at Chipotle