Marc Jacobs Started a #MalePolish Instagram Trend
With the help of influential nail artist Jin Soon Choi.
---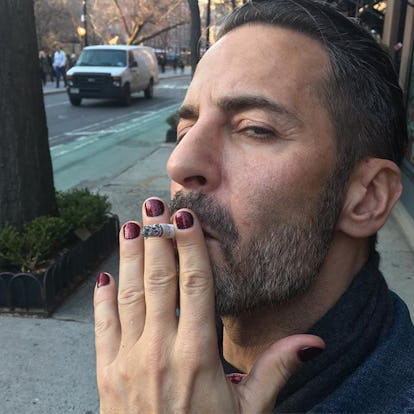 Marc Jacobs is putting the "man" back in manicure with a new hashtag he created called #MalePolish. If you follow the designer on Instagram, you may have noticed the glamorous manicures he's been posting recently on what he calls "Mani Mondays," where he poses with a different shade each week…and usually a lit cigarette. The phrase has now taken hold beyond his personal account though, with hundreds of men now using the hashtag to flaunt their flawless paint jobs. Jacobs himself even responded to one adopter, commenting "Yaaaaaasssss!!!" on the stranger's selfie. It's not the designer's first experiment with beauty products for men — he created his own line of makeup in 2013. Nor is he the first man to dare to paint his nails (Marilyn Manson, Jared Leto, Johnny Depp, to name a few). But we're just happy the trend is back. The #MalePolish revolution would not be possible without Jin Soon Choi, founder of JINsoon and a longtime friend of the designer. We spoke with her about painting his nails every week, what colors are best, and why the look has resurfaced.
When did you start doing nail polish for men? Do you have any early memories? I started doing manicures for men when I opened my first salon in 1999. Most men got manicures without any nail color; they only got a coat of clear polish or a buff manicure and they were a bit shy about it. I remember being impressed that men got manicures.
Is there anything different about the process or colors you pick? Men tend to prefer dark colors and avoid bright and pastel shades.
Why do you think men are embracing nail polish again? I think it's a way for any man to put the finishing touch to his look, and I am pleased to see them embracing this movement.
Did you come up with the hashtag #MalePolish, or did Marc? Marc created that hashtag.
Do you help Marc find the perfect colors? What's it like working with him? I admire and respect him so much. He's just so talented and competent – I learn something new every time I work with him. He always knows what he wants and he finds the perfect colors for himself.
Marc Jacobs Started a #MalePolish Instagram Trend
Watch W's most popular videos here: