Marc Jacobs Christmas Gift was a Gaggle of Singing RuPaul's Drag Race Queens
Marc Jacobs' boyfriend recruited RuPaul's Drag Race queens to put on a special performance as a Christmas gift.
---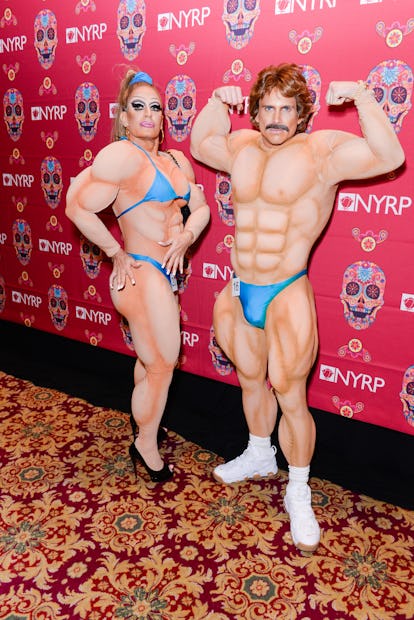 Patrick McMullan via Getty Image
There are all sorts of reality shows that purport to find the next big supermodel or the best up-and-coming designers, and yet out of the thousands of contestants who have fought, screamed, catch-phrased and occasionally did something like actual modeling and designing during those shows, only a small handful have actually impacted the world of high fashion in any nominal way.
In fact, the show with the highest hit rate of actually getting its contestants noticed by the upper end of the fashion world may be RuPaul's Drag Race.
The New York Times earlier this year called it fashion's favorite obsession and designers like Jeremy Scott, Marc Jacobs and Isaac Mizrahi have served as guest judges. Even Gigi Hadid found time in her busy schedule last year to appear. Of course, contestants have in turn gone to some fashion gigs of their own (including former contestant Carmen Carerra in the pages of W).
Jacobs seems to be particularly obsessed. In fact, his Christmas present this year was a gaggle of Drag Race queens lip-synching to "Big Spender" from Sweet Charity. They were all decked out in his own '80s-tastic resort collection, naturally.
The idea was that of Jacobs' boyfriend Char Defrancesco, who presented the video to the designer as his Christmas gift.
Drag Race alums Alyssa Edwards, Manila Luzon, Detox, Milk and Bianca Del Rio all star. Milk, also known as Dan Donigan, previously worked at a Marc Jacobs boutique and appeared out of drag in Jacobs' Spring/Summer 2016 campaign.
The video also stars actress and choreographer Candis Cayne, non-Drag Race queen Miss Shalae and comedian Drew Droege in character as his popular impression of Chloë Sevigny. Droege has also previously appeared as Sevigny in a Jacobs campaign.
By the way, Jacobs recently made his own drag debut this past Halloween as a female bodybuilder.