Paris Hilton Rewears Iconic 21st Birthday Dress 15 Years Later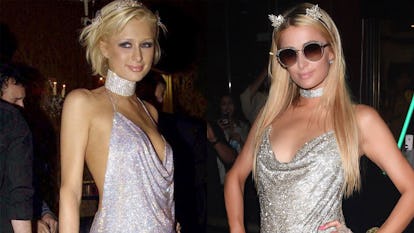 Parishilton/Twitter
So many of Paris Hilton's outfits deserve to be hung in some sort of museum—the Juicy Couture tracksuits, Von Dutch trucker hats, and many, many Barbie-pink getups. But perhaps the most iconic of all is the glitzy chainmail minidress featuring a low-cut back, crystal straps, and a plunging draped neckline that she wore to one of her several 21st birthday celebrations. But before the Julien MacDonald frock gets packed up for good, the heiress decided to take it out for a victory lap.
On Sunday, Hilton, 36, shared several photos on Twitter of her wearing the 15-year-old disco ball dress to a DJing gig in Spain on Saturday. "Last night in Marbella!" she captioned two pictures of her standing outside a club. "2002 – 2017," she captioned another set of photos comparing her 2017 sensibilities to those of her 2002 birthday bash. This weekend, the singer accessorized the dress with a silver sparkly choker, rhinestone-encrusted fingerless gloves, metallic pointy-toed pumps, a headband with silver cat ears, huge round sunglasses, and hot pink nails. Her turn-of-the-millennium look was no less over-the-top: For the London soirée, Hilton paired the dress with a delicate tiara, butterfly-shaped barrettes, a wider diamond choker, strappy stiletto heels, a pink Tinkerbell purse and a hot pink watch. At the time, she also had a short bob haircut, rather than her current waist-length locks, and opted for black eyeshadow and heavy eyeliner.
But Hilton isn't the first one to give her early-aughts ensemble a modern-day makeover. In November 2016, Kendall Jenner wore a nearly identical dress to her own 21st birthday party in Los Angeles. In an interview with Vogue shortly after Jenner's party, Hilton said she was flattered by the supermodel's homage to her. "Kendall, I was just at her birthday party the other night, and when I was saying hi to her I looked down at her dress and I'm like, 'Oh my god, that dress is stunning.' That was actually my dress for my 21st birthday, as well. We were laughing about how the dresses look exactly alike and she looked stunning in it. It was such a beautiful dress. To see that recreated just brought back a lot of memories," she said.
Related: Paris Hilton Invented Everything You're Doing in 2017, and She Knows It
Paris Hilton Breaks Down Her 13 Favorite 2000s Trends, And Why They're Still Hot:
Paris Hilton's 20 Most Iconic 2000s Looks, From Juicy Couture to Rhinestones
Paris Hilton celebrates her 21st Birthday Party at the Stork Rooms in London wearing a chainmail halter dress and rhinestone choker necklace.

Dave Benett/Getty Images
Paris Hilton interviews the designer Jeremy Scott backstage while wearing a Von Dutch t-shirt and pink Juicy Couture sweatpants with her flip phone on the belt.

L. Cohen/Getty Images
Paris Hilton arrives at 'Guy's Club' in Los Angeles wearing a "Got blow," tank top, low-waist pants, and a rhinestone belt.

Getty Images
Paris Hilton poses with Nicole Richie in matching denim suits (and nothing underneath) outside The Lounge club in West Hollywood.

Getty Images
Paris Hilton shops Kim Kardashian in Sydney, Australia. They both wear white and carry oversized metallic Louis Vuitton bags and sunglasses.

PhotoNews International Inc./Getty Images
Paris Hilton wears all the trends: A New York Dolls shirt, fishnet tights, platform boots, arm warmers, a rhinestone, choker, and tinted lenses outside the Sunset Marquis.
Paris Hilton wears a Pony tank top, hat, and sweatband paired with a very miniature mini skirt to a party for the photographer Jamel Shabazz in Los Angeles.

Amy Graves/Getty Images
Paris Hilton wears a shirt that says, "I love shoes, bags, and boys," while out in New York City with her dog.

James Devaney/Getty Images
Paris Hilton wears a tiara and carries a pink Barbie bag at the Palazzo Suites at the Rio Hotel in Las Vegas, Nevada.

J. Vespa/Getty Images
Paris Hilton wears track pants on the red carpet during the Gen Art: Fresh Faces in Fashion event in Los Angeles.

J. Vespa/Getty Images
Paris Hilton discards her fur coat to show off a "Savage art" top while at a performance of The Pussycat Dolls in Hollywood.

Chris Polk/Getty Images
Paris Hilton dances at Light Nightclub in the Las Vegas Bellagio Hotel wearing a black slip dress with rhinestone trim and fishnet garters.

Denise Truscello/Getty Images
Paris Hilton poses in a cabana at the Cannes Film Festival wearing a bikini, fur coat, Dior choker, and oversized sunglasses.

J. Vespa/Getty Images
Paris Hilton wore a blue rhinestone dress and tiara to the New York celebration of her 21st birthday at Studio 54.

Ron Galella, Ltd./Getty Images
Paris Hilton wore a see-through pink dress and tiara to the California celebration of her 21st birthday at the GQ Lounge in Los Angeles.

J. Vespa/Getty Images
Paris Hilton attends an Armani Jeans and Vibe party wearing extremely low-waist, lace-up pants, a red one-shoulder top, and a matching beret.

Evan Agostini/Getty Images
Paris Hilton holds her late dog, Tinkerbell while wearing a pink Adidas tracksuit following the 2003 Golden Globes awards ceremony.

Amy Graves/Getty Images
Paris Hilton attends the premiere of "How High" in New York wearing an "I adore Dior" shirt with Eloise on it.

Ron Galella, Ltd./Getty Images
Paris Hilton wears an American flag chainmail halter top and denim skirt to a party celebrating Francois Nars' new book, "Makeup Your Mind."

Sylvain Gaboury/Getty Images
Last but not least: Paris Hilton wears a black slip dress, fur coat, and cowboy hat on the red carpet in the 2000s.

Ron Galella/Getty Images