Breaking Down Beyoncé's Ivy Park Video In GIFs
Sorry, not even Beyoncé can make wedge sneakers cool.
---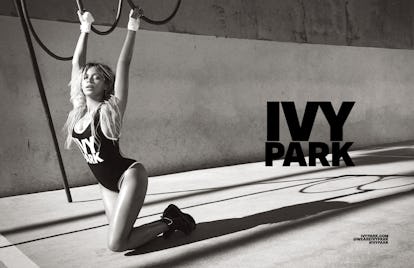 Because Beyoncé is the queen of the multi-media mega drop, to compliment her new Ivy Park campaign, she also released a video called "Where is Your Park." In it, she talks dramatically about her love of parks; how she visits them before performing, conquering the world, giving birth, etc. "The park is what made me who I am," she says. Huh. And all this time we assumed she'd been born flawless.
Beyoncé may talk a lot about her love of public parks, but this clip of her and Solange running through the grass was probably the last time she stepped foot in one. Not because she doesn't want to; she's just too famous. Today, she's likely forced to run in a treadmill in the privacy of her own state of the art at-home gym.
Hopefully Blue Ivy gets some time on the playground, but its hard to blend in with other kids when your top bun is THAT flawless. It's official: top knots are out, mommy-and-me buns are in.
Sorry, not even Beyoncé can make wedge sneakers cool.
Okay but where can when/where can we buy Beyoncé waterproof pool makeup? Also, what park has a pool???
If you zoom in close enough, Beyoncé's Ivy Park sprinkler is actually raining money! Just like she will be after the activewear line is released. Notable if also forgettable: Rihanna also released a video today. Did anyone notice?
Below, the campaign video in all its flawless, blinding glory:
Beyoncé Launches Ivy Park, Her New Activewear Line