Beyoncé and Jay-Z Receive Standing Ovation in Capri Restaurant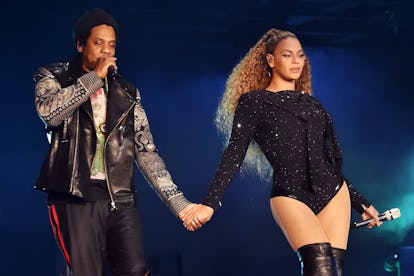 Kevin Mazur/Getty Images
As if they weren't iconic enough already, Beyoncé and Jay-Z just got a standing ovation for eating in a restaurant. Yes, the world's foremost power couple received a level of applause most performers can only hope for…just by gracing mere mortals with their dining presence. The incident was captured on camera and published by TMZ, who reported that the two were enjoying a meal at the Aurora restaurant in Capri, Italy.
As TMZ's footage shows, while Bey and Jay were making their way out, their fellow diners rose to their feet and clapped and cheered. The owner also got a hug from Jay-Z, TMZ reports, and as the pair exited with their entourage, they received a chorus of parting "ciaos."
Later, as a video from Instagram account @beylite2.0 shows, the couple took a stroll through the streets of Capri while holding hands. In the video, people can be heard gasping and probably expressing the Italian equivalent of "OMG, is that Beyoncé?!"
It looks like Beyoncé and Jay-Z have stayed in Europe for a week-long vacation after wrapping up the continental leg of their On the Run II tour. After kicking things off in Cardiff in the U.K. way back in June, the couple performed their way through the U.K., the Netherlands, Denmark, Sweden, Germany, Poland, Italy, and Spain before giving their final concert in Nice, France, on July 17. People reported on Monday that they took a yacht off the Amalfi Coast in Italy. (This would have been before their applause-worthy dinner date.) Although Blue Ivy, Rumi, and Sir are also on tour with their parents, People reported, they weren't seen in paparazzi photos of the Carters' boat trip.
On Wednesday, July 25, they'll pick things up in Cleveland before embarking on the North American leg of their tour—where we can only assume they will be greeted with equally fawning crowds going, well, apesh*t.
Related: Beyoncé and Jay-Z Share Never-Before-Seen Intimate Photos in On the Run II Tour Book