Jay-Z's Longtime Stylist June Ambrose Explains the Colorful New Audacity of His Style
His stylist June Ambrose reveals Jay's personal journey to embracing the colorful looks for On the Run II.
---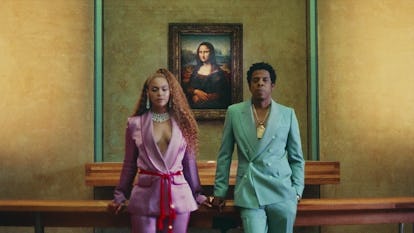 youtube
An outfit is only clothing if you're not Beyoncé and Jay-Z. For the power couple, it's a statement. Everything they do is mapped out, from their On the Run II tour to the threads they wear for it. And for the rapper turned business mogul, that's largely due to June Ambrose. The stylist, who has helped shape Jay-Z's look since 1999, approaches each tour and visual project with as much attention to detail as the fans, fully aware that—like their music—the couple's clothing tells a story.
This Run, the message is their strength as a couple who aren't afraid to open up their marriage issues for the rest of the world to relate to—albeit in a characteristically controlled way, with the recent release of their debut duet album Everything Is Love. "If you look at the evolution of [Jay-Z]'s style, it's really indicative of the maturity of his music and the storytelling," Ambrose explained on the phone, gearing up for the On the Run II tour to hit the United States, beginning Wednesday in Cleveland.
That newfound maturity began, of course, with the release of Jay-Z's most recent solo album 4:44, where he owns up to his mistakes as a husband and father. "You had no father, you had the armor / But you got a daughter, gotta get softer," he raps on "Kill Jay Z," a song he later explained on iHeartRadio, saying, "It's really about the ego. It's about killing off the ego, so we can have this conversation in a place of vulnerability and honesty."
In the process, Jay-Z developed a quiet confidence that shines across in what he wears. In the "Apesh-t" video, he effortlessly pulls off a double-breasted teal suit with a gold chain and no shirt underneath; a white suit; a three-piece gray suit with an overcoat as a cape; a lavender suit; and a scaly brown suit, which admittedly takes the backseat to his musical partner and wife's Versace look. "This project is very fashion-focused, but it was not intentional," Ambrose said. "Everyone was in a great, open-minded place." Why shouldn't they be? With Everything Is Love, Jay-Z and Beyoncé are a rare reminder that you can still grow as a person as you grow in age.
Below, Ambrose shares how Jay's style has grown with him, the Easter eggs you may have missed, and how the two of them always play by their own rules.
You and Jay-Z have obviously grown a lot over the past couple of decades. How has your relationship changed over the years?
I think it evolves with mutual respect, artist to artist. He's progressive in his music and that lends to me having to be progressive in his style and evolve him toward the direction of the albums. If you look at the evolution of his style, it's really indicative of the maturity of his music and the storytelling. It's never outside of context. The look has to be him and authentic. He can't feel forced. He's always been a rock star in that way—he's always so effortless.
I'm okay being invisible. I think that piece is really important to the authenticity of the artist. It's always very collaborative. It's a partnership.
It feels like he turned a stylistic corner with the release of 4:44. There's a lot more attention now on what he's wearing than there has been even in recent years.
That's what everyone is saying. [Laughs.]
Is it surprising to you?
I definitely recognize this project is very fashion-focused, but it was not intentional. Everyone was in a great, open-minded place. Things happen when a person is ready for it to happen. I think he was in a place where he wanted to have some fun. Not that he was ever afraid—some artists want to get on the cover of all these fashion magazines; that was never a conversation we had. I think it's simply the natural evolution of a man's style.
We played with color, which is really nice, and that was the awakening with the 4:44 album. It was so raw and honest and new that the black was no longer the focus. It was okay to step into color. It's truly him. He had to be the one to say, "Okay."
He's taking more risks on this Run.
Yeah, even just the way his clothes fit. We look back and laugh at the baggy pants now because he likes a cropped pant. He likes the ankle cleavage. He likes a certain fit on the trouser. He's very specific.
The attention to detail is so fun because as an artist, I love getting into all the accoutrements. Every little thing matters to me: the finishes in gold, the break on the pants. I've always been that kind of costumer—it's about developing a character. That's been the joy of working with Jay, is being a part of character development of him as an artist. It's rewarding and fun and liberating.
How aware are you that there are people online who are going to analyze literally everything he and Beyoncé wear and do down to the thread?
I turn a blind eye and deaf ear to that. Style is so personal, and most of the comments coming from the outside are from people who only know what they know. They're not speaking from a clinical place, they're speaking from an observational place. I'm on the inside, so I can't take those kinds of observations as direction. The motivation shouldn't come from the trend of the expectation; it should come from the spirit of the individual and their conviction, the grandeur and macho-ness that person is going to hold. That's where the creative push comes from: If it's not the music, it's the essence of him. It's the audacity of him—when you think about wearing a double-breasted suit with no shirt, it's very bossy and confident. If you look at the videos and recent images, there's a certain sense of confidence he's always had, but it's even more macho [now].
Do you approach the looks with the expectation that fans on Twitter will be looking for details they can latch onto?
Yeah, I always want to inspire the culture. Back when we did wings or that bossy gold knot on his tie, that was a nod to Notting Hill, London, and the return of the dandy. I'm always looking to create a storyline that says, "This is what's going to be happening." You want fans to be able to take things out of context of that particular genre. If you think about the history of hip-hop, who would have thought we'd be at this place now? Look how far hip-hop has come where artists wear couture. Look how much fun hip-hop artists are having with fashion now, it's really exciting.
What do you attribute that cultural shift to?
Access. You travel the world. When you go to the museums and ateliers, you meet the designers. The people with that access opening the doors and saying, "Learn what we're doing." And then the artist saying, "Learn what I'm doing, where I'm from, and why I wear my clothes this way." The exchange of cultural conversation is what contributes to the visual growth of hip-hop.
Was it harder to get that access in the early days?
There was definitely an ignorance to the culture and the music. It took time. It took us breaking all the rules and not necessarily asking for permission. We don't need a house to give us clothes. We can acquire and purchase it. We don't need an endorsement. We don't need permission. Once we start telling a story, we have the creative license so it opens up more of a conversation. People start to see cultural similarities and become friends, it's nice. It breaks down all the stereotypical walls—racism, everything. All those things start to go away.
I remember years ago there would be "no"s—we don't do this kind of publication or this kind of genre of music—but when you think about what hip-hop is now, we don't even think of Jay-Z hip-hop-wise. He's a pop icon. When I sit with my team and lay out plans, that word [hip-hop] is not a word that we use.
At this point, which designers do you feel like are your greatest allies?
We've gotten a lot of support from Calvin Klein and Raf Simons. He's been wonderful to work with. Gucci has been wonderful to work with. We're working with Dries van Noten. When I was in Paris, I got a chance to go to the different houses—Margiela, Givenchy have been really supportive—and meet the different designers. Even the smaller brands, and the support from Puma. We've broken in new designers as well that we've leant Jay's platform to and working with designers that are at smaller houses. I've even custom-designed some things as well. There's a lot of collaboration happening, which is really nice.
How involved are Beyoncé and Jay-Z on a micro level in the costume design process?
Every detail they're involved in, which is really nice. They're the real deal. We put our looks together and then we get together and place them with each other with both of them involved.
For the tour and video, which of Jay's looks was the hardest to pull together?
With the tour, it was more about creating this conversation that spoke to the narrative and all of the content we shot in Jamaica. We wanted to bring that to life on stage. That was really fun and challenging for it to be feeling natural and bringing in color. Also for Jay to be performing on stage in suiting. That's about finding the right fit and energy. For the video, it was more about the colors and the tone and the bossiness of the fit of the suiting. Working with John Galliano for the pink shiny suit, which was a real fashion-forward stretch for us, was really nice. We wanted everything to feel easy and effortless, like he didn't have to try hard for any look. That's what I love about his style.
Are there any Easter eggs in the video that fans might have missed when dissecting it?
He had matching Gucci stamped shoes, which is super garish and crazy for him and you couldn't see those in the video. That was fun. I think people really got that art was imitating life. Seeing them in all these beautiful, artistic fashions, you realized they're the Mona Lisa. They became those pieces too. Some fans might not have looked at fashion like art [before], and I've always looked at fashion as art. You look at couture pieces on the runway and think that's art, but there is also an art to style. It was such an aha moment.