Beyoncé's Mother Releases Actual New Photos of the Twins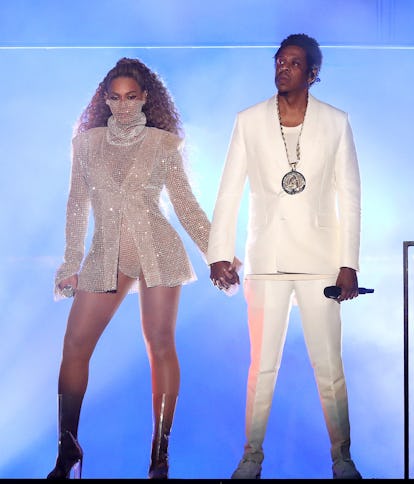 Raven Varona
For a few hours yesterday, the internet was convinced that Beyoncé had finally giving us a family update. The opening night of the On The Run II tour in Cardiff, Wales, reached a fever pitch when the pop artist and rapper appeared to have shared new photos of their 11-month old twins, Rumi and Sir. Projected up on screen, after all, was a photo of Beyoncé and husband Jay-Z holding two babies in their arms that certainly appeared to be twins. Who else could they be but Sir and Rumi? In between the photos, messages read "Love is universal" and "Love never changes," which could be in reference to her love for her children or her recovering relationship with Jay-Z, or both.
It would have marked only the second time the general public has seen clear photos of the twins following their iconic birth announcement.
It made senses. Jay-Z and Beyoncé are notoriously private about their personal lives, especially when it comes to their children—opting to share photos and videos of them mostly through their performances at this point, as they did on the first On the Run tour with their oldest child, Blue Ivy—the rapper talked about life with the twins at the beginning of the year. "We are in a beautiful time now because they are seven months and they can't move," he told CNN's Van Jones, as People noted. "They can just coo…they just coo and you don't have to 'wait, wait, wait, wait.' You know, they're not running anywhere yet. We are going to enjoy these couple of months until they start running, and then it's over."
As it turns out however, no, those were not actually Sir and Rumi. Just baby models, according to clarifications that swept the internet. However, we didn't have to wait too long to get a pictorial update on the twins. Grandmother Tina Lawson just casually dropped a picture of the children on her Instagram this morning. "My babies❤️❤️❤️," she wrote. It also appears that the photo was taken at Beyoncé and Jay-Z's rumored renewal of vows.
As for the actual tour, here were plenty of other highlights from the opening night of the tour. Together they performed "Drunk in Love" and "'03 Bonnie & Clyde." Meanwhile, stylistically, they debuted a handful of new looks. In one, Beyoncé wore a glimmering sheer jacket and turtleneck stretching up toward her eyes as Jay-Z stood by her side in an all-white suit.
Meanwhile, in another, Bey wore Gucci and a balaclava.