Beyoncé and Solange Knowles Went to Counseling Together As Children to Avoid Jealousy
Tina Knowles took them to a therapist to avoid jealousy.
---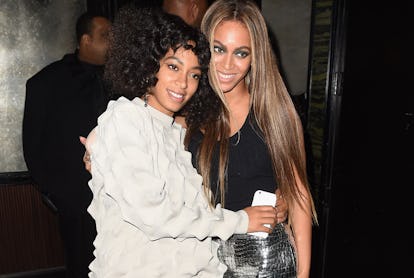 Nicholas Hunt/Getty Images for Balmain
As a modern renaissance women (artists, curators, and humanitarians), Beyoncé and Solange Knowles seem better equipped for lives in the spotlight than almost anyone else. Like every other facet of their careers though, they worked hard to get there. Their journey started young, as many people are aware by now, but what's lesser known is that it began with some siblings therapy and careful mothering.
Their mother, Tina Knowles Lawson, recently revealed that when Beyoncé and Solange were just kids she took them to see a therapist to work on themselves and their relationship with each other. "I was very sensitive to that because I grew up where I felt like my mom liked my brother more. And she loved him more," Knowles told Maria Shriver. "So I was really sensitive to it. So I had days I devoted to—on Wednesday I took off work and that was Solange's day. She was a lot younger than Beyoncé. It was tough because Beyoncé was this little superstar in our city."
Specifically, the family matriarch brought them in to avoid any jealousy as Beyoncé's career began taking off. "I took them to counseling," she said. "Very early. So that the counselor could help Beyoncé be more sensitive to Solange because she couldn't stand her for a minute. You know, when they were little, when she was five, she was all in her stuff, she was trying to hang around her and her friends. Beyoncé was really irritated. But it made her more sensitive to who her sister was and what she had to deal with because of her."
Obviously it was successful, as Beyoncé and Solange remain close to this day and happily share the spotlight. Just last month, Bey brought out Solange during her headlining set at Coachella to bask in the moment with her. But at the time, Tina faced criticism from others close to her. "My family was like, 'You're going to make them crazy because they're too young for you to take them,'" she said. "But I wanted Beyoncé to be sensitive to the fact that Solange had to deal with being a little bit in her shadow. And it made her way more sensitive and protective. And they're still fiercely protective of each other." As for the people who questioned Knowles' parenting tactics, they're eating their words now.
Related: Beyoncé Thinks Her Mom Tina Lawson's Instagram Is Embarrassing