Biaggio Ali Walsh, Grandson of Muhammad Ali, is a Champion on His Own
Signed to both Wilhelmina Models and the University of California, Berkeley football team, Muhammad Ali's grandson, Biaggio Ali Walsh, dominates the camera and the football field.
---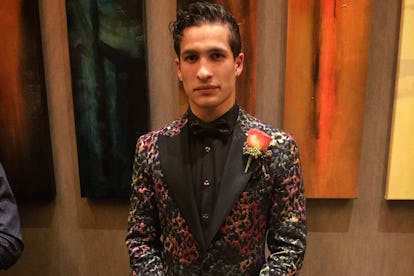 Biaggio Ali Walsh/Twitter
Recruited as a running back for the University of California, Berkeley Bears and as a fresh face for Wilhelmina Models, 19-year-old Biaggio Ali Walsh, grandson of the late boxing legend Muhammad Ali, possesses quite the resume. At 5'10" he stands a bit shorter than his heavyweight grandfather, but he's a champion nonetheless.
Boasting a butterfly emoji in his Instagram bio, a butterfly tat inked on his left arm and bee on his right, and a t-shirt that displays Muhammad Ali's given name, Cassius Clay, Biaggio proudly sports some not-so-subtle nods to his grandfather's "float like a butterfly, sting like a bee," a powerful testament to his grace and dexterity in the boxing ring.
Growing up in Las Vegas, Biaggio and his boxer brother, Nico, spent as much time as possible with their grandfather, whom they referred to as Poppy. "Every Thanksgiving and every time we got the chance, we'd drive out to Arizona or fly to Michigan and spend time with him. He loved magic tricks, so Nico would bring his magic kit, and we would show him cool tricks," Walsh told Sports Illustrated.
Named after both grandfathers (Biaggio comes from his father's side, and Ali, his middle name, comes from his maternal grandfather) and a descendent of heavyweight royalty, Biaggio doesn't shy away from sharing sweet memories with his late grandfather Muhammad Ali on social media.
As Biaggio says in his own Instagram caption, he's not a boxer, he just plays one for the camera. Son of Bob Walsh and Rasheda Ali-Walsh, Biaggio once attempted to follow his grandfather's footsteps in the ring, but took to a different sport. "Me and my brother would train in boxing when we were really young with our uncle, and Nico found a passion for it. But I didn't feel what he felt," said Biaggio of his decision to choose football over boxing. His football career began in high school, and he sped across the field as a running back for Bishop Gorman High School in Nevada.
Before signing with Cal earlier this year, an agent from Wilhelmina Models reached out to the scion in 2016. His chiseled jawline and handsome smolder were prominently displayed in photo shoots with At Large magazine and Vogue Italia.
Bridging the gap between athlete and model, it's clear that the football champ is also your average college freshman, sharing photos from his last high school prom and dressing up as a member of the Justice League for Halloween.
Related: Magic Johnson's Daughter Elisa Johnson, Modeling's Latest Scion Recruit, Sets Her Sights on Fashion Domination