Big Little Lies Author Reveals the Inspiration for Alexander Skarsgård's Character
The latest twist in the runaway hit, and now Emmy-winning, saga—which may be up for a second season.
---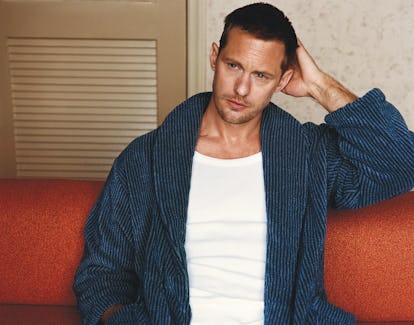 Photographs by Alasdair McLellan, Styled by Edward Enninful; Hair by Shay Ashual at Art Partner; makeup by Diane Kendal for Marc Jacobs Beauty at Julian Watson Agency; manicures by Casey Herman for Dior at the Wall Group. Set design by Stefan Beckman at Exposure NY.
Big Little Lies swept the Emmys Sunday night, picking up eight awards including wins for actors Nicole Kidman, Alexander Skarsgård, and Laura Dern, and for director Jean-Marc Vallée. And while the series was pitched as a limited series—after all, that's the category in which Dern, Skarsgard, and Kidman all won—it appears that Big Little Lies might not be going anywhere any time soon. After the Emmy Awards, writer and co-producer Liane Moriarty, who wrote the novel on which the miniseries was based, told a group of journalists she was "thinking about" revisiting the show for a second season. ("There's nothing definitive yet," actress and co-producer Reese Witherspoon cautioned.)
Rumors of a second season for the wildly successful series are nothing new—after all, Casey Bloys, the same HBO programming president who revealed Game of Thrones might be filming multiple endings, floated the possibility earlier in the summer—but, after its screen adaptation emerged so victorious at Sunday's awards, Moriarty also expanded on her inspirations for Skarsgard's character, the abusive Perry Wright, in addition to endorsing a new season of the show.
"It came from a really horrible ex-boyfriend," she said backstage at the Emmys, according to Elle, "who I took great pleasure in killing off. First in the book, and then it was very nice to see it happen in the series."
"Then," she added, "Nicole took it from there." Kidman plays Perry's wife Celeste, and she won an Emmy for her sensitive performance as the embattled domestic-abuse survivor: "It's a complicated insidious disease," Kidman said of domestic violence during her acceptance speech for Best Actress in a Limited Series. "It exists far more than we allow ourselves to know. By you acknowledging me with this award, it shines a light on it even more."
In 2014, the year after Big Little Lies, the book, debuted for American audiences, Moriarty spoke with The Guardian about the novel's inspirations, describing real-life analogues for several key moments in the book around which she structured the rest of the narrative. During a book tour before she began writing, a writer friend told her she planned to attend an Audrey-and-Elvis-themed party—which, as the show's viewers know, is the site of the final confrontation—and Moriarty "thought thought that would be a lot of fun visually, and a good anchor for the events of the book," she told The Guardian. Another friend told Moriarty she had discovered bite marks on her daughter—as Dern's character Renata finds, to her horror, on her daughter Amabella—and Moriarty became fascinated by "the drama of finding evidence of harm on your child."
But she also said "the real impetus" was a radio interview she heard, in which a woman described returning to her childhood home, where she had witnessed her father abusing her mother, and "going to hide under her bed when her parents began to argue," Moriarty said.
At that point, Moriarty also hinted her next book would be set on a tropical island, rather than an elite coastal enclave. But her most recent novel, Truly Madly Guilty, which was released in July 2016, takes place at a barbecue in Sydney—and was almost immediately optioned by Kidman and Witherspoon. Big Little Lies Season 2 sounds enticing, but it might have to wait.
Watch: Big Little Lies star Nicole Kidman would crush it if she went on Survivor: