Why You Should Probably Be Wary of Those Game of Thrones Series Finale Rumors
Game of Thrones may have figured out how to thwart spoilers and paparazzi.
---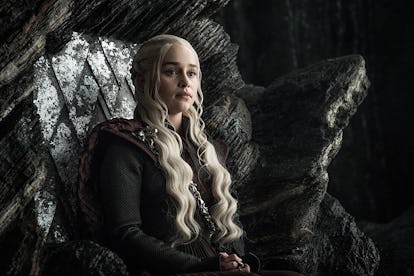 Courtesy HBO
Game of Thrones wrapped its seventh, and penultimate, season just last month—with a season finale that smashed the series' previous viewership records—but it could be a while before the last season is in view. The show is expected to begin production on its eight and final season next month, but with a sprawling narrative that has taken its shoots from Iceland to Northern Ireland to Morocco, it has been estimated the last six episodes might not air until 2019.
That gives a lot of time for fan theories—and potential spoilers—to circulate. After all, Game of Thrones has been plagued by paparazzi ambushes (including, memorably, a report from Kit Harington that he spent 15 hours filming three different versions of a scene to thwart overly inquisitive drones), leaks (including the penultimate episode of Season 7, which accidentally went online early in Spain, and there's a whole Reddit industry manufacturing new hypotheses based on the most minute details. All this is to say, fan theories and spoilers abound, and they will only proliferate in the next year as production gets underway.
But there's special reason to approach with caution when hypothesizing how the show will end, according to Casey Bloys, HBO's programming president.
"I know, in Game of Thrones, the ending, they're going to shoot multiple versions so that nobody really know what happens," Bloys said at a recent event at Moravian College in Bethlehem, Pennsylvania. "You have to do that on a long show, because when you're shooting something, people know. So they're going to shoot multiple versions so that there's no real definitive answer until the end." (So we won't know until the very end if Gilly is going to emerge the rightful champion of the game of thrones.)
Though the network has not confirmed Bloys's remarks, this method would not be without precedent: RuPaul's Drag Race takes similar tack to prevent spoilers, as did The Sopranos and Breaking Bad ahead of their series finales. HBO leakers, proceed with caution.
Kit Harington auditioned for Game of Thrones with a black eye: