How Would Big Little Lies Season 2 Even Work? We Have Some Ideas
Is a second season of Big Little Lies in the works? Is it even possible? Reese Witherspoon and Laura Dern have hinted at the possibility.
---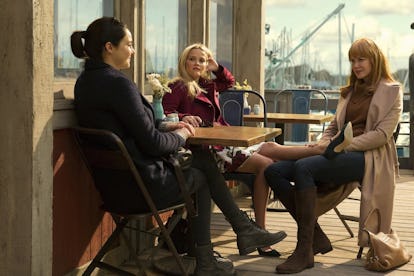 Getty
Big Little Lies was always supposed to be a limited series affair. It is, after all, based on a novel that doesn't have a sequel and does a pretty good job of wrapping itself up nicely, as we learned Sunday night.
There's also the matter that getting this pool of talent together seemed a momentous task the first time around. We're talking about three of our greatest working film actresses (Nicole Kidman, Reese Witherspoon and Laura Dern, all either Oscar winners or nominees) and two promising starlets on the rise (Shailene Woodley and Zoë Kravitz) here. To be sure, the cast all have a lot coming up on their plate. Aside from intriguing prestige and indie fare, most of these women are also tied up in big screen blockbusters in the near future. Nicole Kidman just joined the Aquaman movie (she'll play the titular character's mom). Laura Dern will join the Star Wars universe later this year in whats rumored to be a very important role. Reese Witherspoon is linked to a Disney live action reboot of Tinkerbell. Kravitz, of course, has a few more Fantastic Beasts movies to film (seriously: super hero movies, Disney live actions reboots, Star Wars and the Harry Potter universe. Is there a blockbuster franchise they aren't involved with?).
Sure, we'd love to see the ladies return, but we can't be greedy. We knew what we were getting into from the start. We should just be glad it happened in the first place.
Yet, apparently a second season is not only a possibility, but both Witherspoon and Dern are openly talking about it.
"People are asking us a lot if there is room for a Season 2 of this, and I know there is a lot of discussion, so. . ." Dern told Vanity Fair recently before trailing off.
Dern and Witherspoon, who are actually on vacation together now with their families, also held an Instagram live session on Friday to discuss the show and talked about the possibility of a second season.
"One of the main questions everyone keeps asking us is is there going to be a season 2," Witherspoon said. "We've been talking with the writer, and you guys should Facebook Liane Moriarty and tell her how much you want to see Big Little Lies 2. That would be good. She's thinking about ideas, and so we would love to hear ideas."
Hopefully, they're not teasing. With their mere suggestion, we're already invested in hope. In fact, at Witherspoon's suggestion, we're going to offer a few suggestion as to how this could even work.
1. A Direct Sequel With The Same Characters
The series wrapped up pretty beautifully with a happy little beach day that somehow made us cry. Sure, there were still a few thread left handing. Apparently, Kravitz's character Bonnie had a backstory in the novel that wasn't covered in the series that better explains her actions in the climactic scene. Yet, with that ending, we kind of hope these women keep on living the beautiful little life of white wine spritzer picnics and female friendship we left on. Besides, how many dark little secrets can one upper-crust town keep?
Oh, right. We still don't know if Madeline ever told Ed about her affair. In fact, come to think of it, the finale did pay an awful lot of attention to Tori, the wife of Madeline's former theater director fling, seemingly stalking and eyeing down our protagonist. Was it just a red herring meant to heighten the mystery of who dies by offering alternative options, or could it be the perfect thread that leads to a sequel?
Here's something intriguing to keep in mind: Madeline's affair wasn't part of the original book, and instead was dreamed up by the show's executive producer and sole writer David E. Kelley, supposedly because Witherspoon wanted her character to have a secret of her own and a bit more depth.
It could also have been the prefect subtle plot device to leave the door open for more. Alternatively, there's clearly something going on with Renata's husband, right?
2. An Anthology Series Set-Up With a Different Liane Moriarty Novel As Its Basis
Here's something intriguing: way back in August, Witherspoon and Kidman (who came together to buy the rights to the novel and put this all in motion in the first place) also optioned the right to Moriarty's latest novel Truly Madly Guilty. Could a Moriarty anthology series work? Perhaps. Unfortunately, this novel is of smaller scale. Most of the action takes place in a single day, and concerns three main couples with, of course, particular focus on the wives.
We haven't read it, but reading some of the reviews we kind of got some ideas of how casting could work. Two women are life-long friends, one a Type A queen bee and the other her emotional mess of a BFF. The third is a former exotic dancer. Our original thoughts were that clearly Reese was clearly the queen bee, with Kravitz as the former stripper and Kidman the messy best friend. Then, we thought, hmmm, it would make more sense age-wise for Kidman to play queen bee, Dern to handle emotional mess territory (see: Enlightened) and Witherspoon to play the ex-stripper. Apologies to Woodley and Kravitz.
Alas, the novel's smaller scale might mean it is better suited for a feature film instead of being drawn out into a seven-part series. Though, Moriarty does have five other novels, and Kidman and Witherspoon do seem to have a monopoly on optioning the hit novelist's work. Maybe one of the others could work just as well.
3. Forget Moriarty, Just Let David E. Kelley Handle Original Anthology Series Duty
The actresses are clearly the headline of this series' success, but the lesser remarked upon story is the return to form of David E. Kelley. He's one of television's greatest creators and writers, the only TV maestro ever to see two of his shows win the Best Comedy and Best Drama series Emmys in the same year (for Ally McBeal and The Practice, respectively). He's had a rough few years with series missed opportunities, but Big Little Lies (and, to a degree, Amazon's critically adored, but not quite pop culture-piercing Goliath) proves he's still got it.
If Ryan Murphy can juggle four anthology series, surely Kelley can be trusted with one. Just let him dream up some new scenario to tackle, with or without Moriarty's help, and unleash this troop of actresses on it. Yes, in an ideal world Jean-Marc Vallée would be back to direct as well, but perhaps some other auteur is willing to tackle TV could substitute.
Oh, and while we're on the subject, we'd be remiss if we didn't whisper this little wish into the universe in hopes of seeing it come to pass. Kelley happens to be married to an actress you might have heard of. Her name is Michelle Pfeiffer. After only working sporadically over the past two decades in order to raise a family, she's committed to a full-time return to acting. Surely she knows that some of the best roles for women right now are on TV, and it would only make sense for her husband to write her one. Could you even imagine Pfeiffer joining this little universe?
While we're on the subject, perhaps Kidman can pull her weight and get a role for her real life BFF Naomi Watts. Surely Kidman wants someone on board she can do Instagram Live sessions with while on a joint vacation.
Oh, and Laura Linney. Someone get Laura Linney involved.
We're going over board, but let's be honest, the true pleasure of this Bechdel Test-acing show was getting to see so many strong, iconic actresses team up and play against each other while the men, as great as they were, took a backseat.
It's something still incredibly rare even in 2017, and it only underscores why we're so desperate for more of it no matter how it happens. Please, HBO, just get Witherspoon, Kidman, Dern, Woodley and Kravitz back together somehow in any way possible. If you happen to add in a few more powerhouse actresses along the way, well that would just be icing on the cake.
Related: Why Renata is the Real Star of Big Little Lies, According to Renata
At 49, Actress Nicole Kidman Is Still Quite Impressionable:
Nicole Kidman's 13 Most Transformative On-Screen Roles, From Big Little Lies to Eyes Wide Shut
In 1990's Days of Thunder, Kidman's first role opposite soon-to-be husband Tom Cruise, she plays Dr. Claire Lewicki, a doctor charged with nursing Cruise's NASCAR driver character to recovery in the aftermath of a horrific crash. Though a critical flop, Days of Thunder marked Kidman as one to watch — and it still has a cultish fan base nearly three decades later.

Getty
Kidman and Cruise's second co-starring effort was Far and Away, the Ron Howard period piece about two Irish immigrants in turn-of-the-century America. Another film that was a popular success but a critical non-starter, Far and Away nevertheless found Kidman once again utterly transformed into the Irish émigré Shannon Christie.

Getty
Arguably Kidman's most important role to date came with To Die For, the darkly funny crime comedy about an aspiring television anchor (Kidman, as Suzanne Stone). It earned the actress her first Golden Globe (she had previously been nominated, but lost to Mercedes Ruehl in The Fisher King) and, as a bonus, also features a 17-year-old Casey Affleck in his first role.

Getty
Kidman is luminous in the already overstuffed Batman Forever, which premiered later in 1995 with Val Kilmer as the titular Batman. She plays Batman's love interest Dr. Chase Meridian, a psychologist — and though Batman Forever was far from Kidman's most complex or lauded role, it still finds her again transformed, this time into the quintessential damsel in distress (albeit one with a PhD).

Getty
In the last of Kidman's three roles opposite Tom Cruise, she plays his art curator wife Alice Harford in Stanley Kubrick's Eyes Wide Shut. It's an eerie, complicated role, in which Alice deals with her own suspicions and dissatisfactions while Cruise, Dr. William Harford, undertakes a kind of sexual odyssey.

Getty
Kidman was nominated for Best Actress at the 2002 Academy Awards for her starring turn in Moulin Rouge! opposite Ewan McGregor. It turns out, Kidman is also a capable singer in addition to a transcendent actress.

Getty
It's not just Kidman's capable acting that sees her so transformed in 2003's The Hours — the film that earned her her first and only Oscar thus far. It's also her prosthetic nose that completes her evolution into the writer Virginia Woolf.

Getty
Nowhere is Kidman's skill better on display than in the minimalist Lars Von Trier masterpiece Dogville, in which Kidman plays a woman on the run from the mob who hides out in the small town of Dogville, Colorado. With a set simply demarcated by lines on the floor, the film makes the most of its all-star cast, with Kidman at the center of it all.

Getty
Adapted from the 1997 novel of the same name, Cold Mountain earned an Oscar not for Kidman, but for supporting actress Renée Zellweger. Nevertheless, Kidman is in top form as a young society woman surviving Civil War-time hardships in the eponymous town of Cold Mountain.

Getty
With The Hours and Cold Mountain behind her, Kidman embarked on an early-'00s period of creative triumph. Two years later, she appeared in an entirely different kind of film, starring as an actual witch — Isabel Bigelow — playing an on-screen witch — Samantha Stephens — in 2005's Bewitched opposite Will Ferrell. The film itself was widely deemed a failure of an adaptation of the original sitcom — but Kidman was singled out as the movie's redeeming factor.

Getty
Kidman earned her third Oscar nomination for Rabbit Hole, the 2010 drama co-starring Aaron Eckhart and Dianne Wiest about a couple coping in the aftermath of their child's death. Rabbit Hole also marked the feature debut of Miles Teller.

Getty
Last year, Kidman found herself back in the awards season conversation as Sue Brierley, the adoptive mother of Saroo Brierley, a young Indian man — played alternately by Dev Patel and Sunny Pawar — searching for his birth family. An extremely '80s perm is just the start of Kidman's on-screen transformation.

Getty
Kidman is one part of the all-star cast roped into HBO's Big Little Lies, the limited series also starring Reese Witherspoon, Shailene Woodley, Zoë Kravitz, and Laura Dern. Kidman plays Celeste, the stay-at-home mom and wife of Alexander Skarsgard, whose picture-perfect marriage and children bely a fraught narrative of domestic abuse.

Getty