Bill Cosby Guilty Verdict Sparks Twitter Reactions From Jessica Chastain, Rose McGowan, and More
"I'm sorry if you loved a lie. His victims can now exhale."
---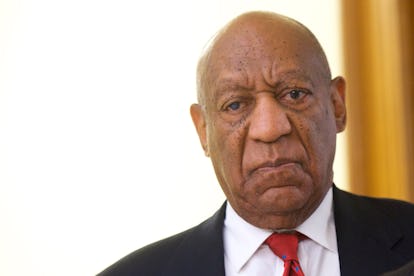 Mark Makela/Getty Images
Today, the 50 (and counting) women who have accused Bill Cosby of drugging and sexually assaulting them over the course of decades got some closure when a jury delivered a guilty verdict. Cosby was found guilty of three counts of aggravated indecent assault of Andrea Constand, who was one of the first to publicly accuse Cosby of drugging her and of sexual misconduct. For each count, Cosby faces up to 10 years in prison (a total of 30 years, although CNN notes he would likely serve the sentences concurrently).
The verdict, which Cosby vulgarly contested in an "expletive-laden tirade," as the Associated Press reported, doesn't mitigate any of his victims' pain, but it does bring some justice. It's also, refreshingly, another instance of actual consequences for men in positions of power whose predatory behavior went on without repercussions for years.
After the guilty verdict broke, many were quick to celebrate it on Twitter. Jessica Chastain, a prominent supporter of #MeToo who shared her own experience with sexual misconduct in Hollywood last year, was one of them. "Just because you're rich and powerful doesn't mean another person's body is automatically available for sex," she tweeted. "Consent must be given. #BillCosby."
Likewise, Rose McGowan, who was one of the first actresses to speak out against another serial predator, Harvey Weinstein, expressed her gratitude for the verdict. "Cosby is guilty. I'm sorry if you loved a lie," she tweeted. "His victims can now exhale. Thank you judge and jury. Thank you society for waking up. Profoundly happy that Cosby's victims, his survivors, are shedding tears of relief today."
Elizabeth Banks also gave her support to Cosby's accusers. "Finally some justice for Bill Cosby's victims," she tweeted. "May they find a little #peace today. #GUILTY"
Padma Lakshmi pointed out that Cosby's verdict came at a very appropriate time. "In a fitting end to Sexual Assault Awareness month, Bill Cosby was found guilty today," she tweeted. "Thinking of all the women he traumatized over the past 50 years. As a survivor myself, I know that pain never fully goes away. But I hope that his victims finally feel some semblance of peace."
Patricia Arquette rightfully pointed out that there's still a lot of progress to be made, especially in regard to how the justice system and public opinion treat cases like Cosby's. "The state of America is this," she tweeted. "Even with dozens of accusers we were all afraid Bill Cosby would walk."
Take a look at more reactions, below.