Lifestyles of the Rich and Shameless
Today's zillionaires have taken living the good life to the next level.
---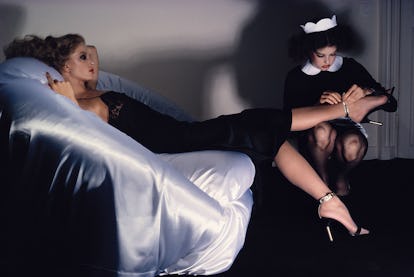 As tempting as it is to pillory today's mega-rich and super-famous for their jet fleets, umbrella butlers, and incessant demands, the truth is that throughout history there have always been those for whom the best wasn't quite good enough. "High maintenance," in other words, is not a new concept. Wallis Simpson, Duchess of Windsor perhaps takes the cake, at least as far as the 20th century is concerned. She not only had her hair done three times a day and her newspapers ironed but, at the height of World War II, sent an envoy to Nazi-occupied France to retrieve a green swimsuit she'd accidentally left behind. And then there was Prince Aly Khan, who in 1949 had the swimming pool of his villa Château de l'Horizon, in the South of France, filled with 200 gallons of eau de cologne for his wedding to Rita Hayworth. Frank Sinatra, meanwhile, forced his long suffering valet to hand wash his underwear, and ensure that his private plane was stocked at all times with a three-month supply of Campbell's Franks 'n' Beans. And, of course, one can't forget about Christina Onassis, who insisted on having her precious Diet Coke specially imported from the United State to Europe by private jet. (Only 100 at a time, to guarantee freshness.) The boat her daddy, Aristotle, named after her boasted an onyx and silver staircase, a marble mosaic pool that became a dance floor at the touch of a button, and barstools upholstered in whale foreskin. "Madam, you are sitting on the largest penis in the world!" Onassis père used to brag whenever a female visitor perched on one.
Scroll forward a half-century, and technology, to a certain extent, has democratized luxury—in the age of Uber, designer-fashion rental sites, and private chefs for hire by the hour, the merely affluent can "pass" in a manner that simply wasn't possible a generation ago. One result: The truly rich, in order to prove their mettle, have had to up the ante. The Christina O seems positively quaint in comparison to Eclipse, the yacht the Russian oligarch Roman Abramovich reportedly bought for $1.5 billion in 2010, with its two swimming pools, two helipads, mini-submarine, armor-plated master suite, and very own missile defense system. And that's practically a dinghy compared with the 390-foot A, designed by Philippe Starck and owned by Belarus billionaire Andrey Melnichenko. That boat, which looks like a cross between a drone and a seagull, costs a half-million dollars just to fuel up. Although there are no cetacean private parts on display, the walls of one suite are covered in iridescent white stingray, and the Michel Haillard chairs are upholstered in alligator skin and water buffalo hide.
For insight into how the high-maintenance set kept up appearances back in the day, there is no better guide than Princess Luciana Pignatelli's 1971 The Beautiful People's Beauty Book. Pignatelli happily admitted to cell implants, a nose job, an eye lift, and silicone injections, which were considered risky even then. Now, according to the French dermatologist Jean Louis Sebagh, the latest beauty craze is Silhouette Soft, a procedure, not approved in the United States, that involves inserting a suture of polylactic acid (the material used to produce medical screws that dissolve in the body) just below the skin and then molding it by hand to lift the visage and stimulate the body's own production of collagen. Meanwhile, the London-based cosmetic doctor Michael Prager, who has a reputation for exquisite, impossible-to-tell work with Botox, commands close to $8,000 an hour. If you're especially persuasive, he will bring his needles to you, because whatever it takes to get you looking selfie-ready really must be done in the privacy of your own home, boat, or jet.
And God forbid you should ever appear "done." If luxury looks in any way labored, it doesn't count. "Someone might spend upwards of $1,500 to get me to do their hair," says the colorist Josh Wood, who has been flown around the world to work his magic on clients like Dasha Zhukova and Elle MacPherson. "But then they dry it themselves so it looks like it has been created in nature."Another trend he's noticed: "Some of my clients will drive over to pick me up and take me back to their house. But there is always someone else to actually park the car. I guess reversing is something one doesn't do."
For some billionaires, it's enough to be recognized as effortlesslygorgeous upon entering a room, but for others, only a footprint that can be seen from outer space will suffice. "International property collection" is the term that Sotheby's real estate uses to describe the minimum of five residencesnow needed to keep up with the Joneses. "There's the principal home, the historic property, the ski lodge, the beach house, and the ranch or safari enclosure," explains Remy Blumenfeld, the producer of the British TV series Who'd Be a Billionaire? Among the mega-rich, he says, discussing one's property is "a way of sniffing each other out. Only the moment you mention the fifth home do you see the look of relief."
Blumenfeld adds that, although there are many billionaires who require a "starchitect" to create their castle (case in point, Vladislav Doronin, co-owner of the Aman Resorts, who hired Zaha Hadid to build his $160 million Jetsons-esque dacha in Moscow), when it comes to the decorator, it doesn't matter if people don't recognize his name, because his only client is you. Five houses in need of constant updating (or refurbishment if there's a divorce) call for undivided attention, after all. It goes without saying that these prime bits of real estate also necessitate a fair amount of staff. If you're a billionaire in Chengdu, China, that means hiring a Downton Abbey–style personal butler to squeeze toothpaste onto your toothbrush, according to Sara Rahmani, whose London-based Bespoke Bureau provides specialist domestic staff worldwide. Rahmani has fielded many demands over the years, including finding a pair of nannies for a client's pet meerkats.
The newest thing in real estate, however, is owning an eco-retreat—splurging on an enormous landmass feels a lot more noble when you're using it for vertical farming. Take Laucala, Red Bull founder Dietrich Mateschitz's self-sustaining Fijian island, which has its own coconut plantation, pig farm, abattoir—and submarine. Or Segera Retreat, in Kenya, the luxury eco–game lodge of 50,000 protected acres owned by Jochen Zeitz, the chief sustainability officer of the French luxury conglomerate Kering. Instead of elaborate picnics of Pol Roger and caviar, meals are prepared in Wonderbags—eco-friendly, non-electric slow cookers designed to reduce firewood and charcoal consumption.
"The zeitgeist right now among people who've made it is to be seen as good citizens," says Ben Elliot, a nephew of the Duchess of Cornwall and the founder of the 15-year-old global concierge group Quintessentially, which satisfies requests like organizing an impromptu dinner on an iceberg. "There's a whole swath of new tycoons—thanks to Bill Gates, Paul Allen, and Steve Jobs—for whom it's philanthropy that plays to their massive egos." A case in point is the Summit Group, the Davos-like enterprise founded by the tech billionaire Elliott Bisnow to encourage business tycoons, philanthropists, and investors to collaborate and exchange ideas. To celebrate the purchase of Utah's Powder Mountain, the site of its $40 million headquarters, the company threw a housewarming glamping trip for 900 guests. The plan is to build a resort with ethical restaurants, eco-aware hotels, and no cars, where emerging tech billionaires can discuss how to change the world.
"The tech high-net-worth crowd is a whole new demographic," says Sophie Hackford, the director of Wired consulting, which brings corporate leaders together with experts like the chief futurist of the FBI. "They drive their own Teslas and fly their own planes to Burning Man, where they have a camp with a fully staffed kitchen, Wi-Fi, and air-conditioned sleeping accommodations. But they're still able to think of themselves as free spirits bumming around the hot desert, just like everybody else."
But, of course, no matter how laid-back megabillionaires might appear to be, they're not like everybody else. Heiress Petra Ecclestone lives in a 56,500-square-foot mansion in L.A.'s Holmby Hills, with a 100-car garage; her 2011 wedding, which featured Château Pétrus at $6,000 a bottle and a performance by the Black Eyed Peas, cost her Formula One boss father, Bernie Ecclestone, somewhere in the region of $19 million. Her sister, Tamara, who lives in an $87 million mansion in London, recently organized a food tasting in preparation for her daughter's first birthday party.
"What has changed over the years is the time frame in which clients expect things to be done," says Henry Smith, the sales broker of the yacht company Cecil Wright. One couple, he remembers, decided to host last-minute cocktails on their boat and requested that tigers in glass cages be hoisted onboard for guests to pose with. Then there were the crudités and anchovy dip that Smith had flown in to the Maldives at a moment's notice from the Saint-Tropez beach club Cinquante-Cinq.
But why, when there are surely perfectly good carrots and cucumbers in the Maldives, and the environment is in such a perilous state? "I attribute it to the cult of personality," says Adam Phelps of the Cellar Society, the luxe catering company that organized Kate Moss and Jamie Hince's 2011 wedding in the English countryside. "People like to underscore their importance in the world. There's a designer client of ours, for example, who has a phobia of vinegar, so he will not have any in his food or anywhere near him. For a big dinner that we did for him at a museum not long ago, he decided he wanted the 'no vinegar zone' to extend to the six tables around him. It's his thing. He likes to be a pain about it. He wants to be the problem." Ol' Blue Eyes would be proud.
Photos: Lifestyles of the Rich and Shameless
Photograph by Guy Bourdin.
A valet at the Paris home of the Duke and Duchess of Windsor, with the couple's pugs. Photograph by Horst P. Horst.
Wallis Simpson, Duchess of Windsor, on a jaunt to Florida, 1956. Courtesy of Morgan Collection/Getty Images.
Inside Frank Sinatra's plane, 1964. Courtesy of B22 Design.
Vladislav Doronin's home in Moscow. Courtesy of Zaha Hadid Architects.
Petra Eccelstone at home in Los Angeles, 2012, photographed for W's March 2012 issue.

Photographer: Roe Ethridge
The interior of Roman Abramovich's yacht. Courtesy of Superyacht Guide.
Whale-foreskin-covered stools on Aristotle Onassis's yacht, Christina O. Photograph by Mark Greenberg.
A hallway on Christina O. Photograph by Mark Greenberg.
The yacht in Monaco harbor, 1957. Photograph by Edward Quinn.
Princess Luciana Pignatelli, at home in New York, 1977. Courtesy of Santi Visalli/Getty Images.
Pignatelli's book on beauty, 1971. Courtesy of McCall Publishing Co..
Andrey Melnichenko's yacht, designed by Philippe Starck. Photograph by Guillaume Plisson.
The pool at the Laucala Island resort, Fiji. Courtesy of Laucala Island Resort.