Birds of Prey: Everything We Know About Margot Robbie's Harley Quinn Followup
The first openly LGBT movie superhero lead could be included.
---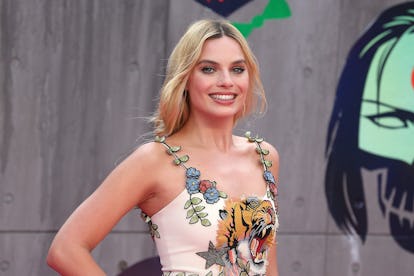 Fred Duval
Since it became clear that Margot Robbie's Harley Quinn was the breakout star of DC Comics' extended cinematic universe of fluctuating quality, reports sprung out of Hollywood that Warner Bros. was considering some half a dozen movie ideas to serve as the next showcase for the actress as Harley Quinn. Eventually, they settled on Birds of Prey (with director Cathy Yan on board), and the word was it would be something akin to an all-female version of Suicide Squad. Here's the thing: While there is a Birds of Prey team that exists in the comic books, Quinn has little to do with the title. So even proud comic book nerds were left stumped as to what the film might actually be.
Well, finally, the Wrap has released details of what to expect, and which other bad girls will team up with Quinn in the film. There's some good news (the potential for the first openly LGBT lead character in comics) and some disappointing (sorry, Catwoman fans), but overall, the film promises to be a female superhero team-up movie the likes of which we haven't seen before. It should also lead to months of hot casting gossip. Here's everything we know so far.
Sorry, Catwoman and Poison Ivy won't be in the film.
Among the other projects considered to extend Robbie's place atop the DCEU was an idea called Gotham City Sirens, adopted from the comics, which would team Quinn with fellow iconic Batman bad girls Catwoman and Poison Ivy. Sadly, reports indicate that the idea is no longer in development, with one suggesting that Catwoman and Ivy might still pop up in Birds—though they're not part of the announced main team, and they likely won't be the villains, either.
We can live with that, though we are left wondering when, exactly, the DCEU will introduce its version of Catwoman…if ever.
Instead, Quinn will join traditional hero characters.
Here's where it gets confusing. Traditionally, in DC lore, the Birds of Prey are a team consisting of Batgirl (or occasionally one of the Birdgirls in her Oracle persona…we know, comic books are confusing) and fellow young female caped crusaders Black Canary and the Huntress. But in this team-up, it seems Quinn is basically replacing Batgirl (who may get her own movie), and a few new additions are being thrown in. Here's the lineup, according to the Wrap.
Black Canary: Known on her birth certificate as Dinah Drake, the character is a world-class martial artist with a thing for fishnet tights who has the power of a sonic scream called the "canary cry."
Huntress: Traditionally portrayed as the daughter of a powerful mob boss who strikes out on her own to become an (often violent) vigilante. The character also appears on the CW in episodes of Arrow, but much as how the movie version of the Flash is separate from the CW version, that likely won't be an issue.
Cassandra Cain: Another skilled martial artist who happens to be the daughter of two assassins. The character has gone by the names Black Bat and Orphan in comics, and held the mantle of Batgirl for a while (again, comics are confusing). Notably, the character is also partially of Asian decent.
Renee Montoya: A detective with the Gotham City Police Department.
One of the characters could be the first openly LGBT superhero on the big screen.
Big blockbuster movies have been cruelly teasing the LGBT community with representation for far too long now. Thor: Ragnarok cut a scene that confirmed Tessa Thompson's character was bi, Jurassic World: Fallen Kingdom cut a similar reveal, and Fantastic Beasts continues to play a maddening game of "Don't ask, don't tell" with Dumbledore.
Well, in the comics, Detective Montoya is an out lesbian. It sure would be a shame if DC passed up the opportunity to include that major part of her character in the movie. Then again, the comic book house also announced today that it's moving forward with a new TV series for the CW starring Batwoman, who, like in the comics, will be a Jewish lesbian.
The villain has never appeared in a movie before.
No word on who will play the girl gang's big foe, but the Wrap drops some hints. The character will be from somewhere within the Batman mythos, but the character has apparently never been in a live-action movie before. So cross off the usual suspects, and don't expect Jared Leto's Joker.
That leaves the possibility of traditional Birds of Prey villains like White Canary (obviously Black Canary's main adversary) or Lady Shiva (Cassandra Cain's estranged, psychopathic assassin mother). Though, it could also open the door for more traditional Batman villains like Black Mask or Clayface.
Related: Who is Cathy Yan? Discovering the Unknown Director of Margot Robbie's Next Harley Quinn Film