Who is Cathy Yan? Discovering the Unknown Director of Margot Robbie's Next Harley Quinn Film
The future of DC Comics is in the hands of women.
---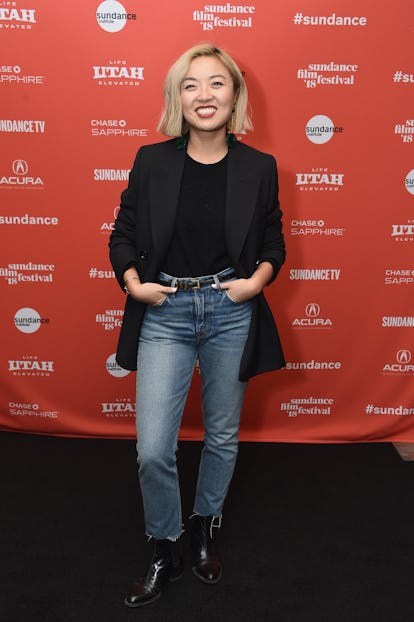 Michael Loccisano
The DC Extended Universe is handing the keys to the future of its breakout character, Margot Robbie's Harley Quinn, to Cathy Yan, a relatively unknown director whose first feature-length film, Dead Pigs, premiered just months ago at Sundance. According to Deadline, she beat out "numerous well-established male directors" for the job, and benefited from a presentation and vision for the film that impressed execs and got backing from coproducer Robbie, who was keen on the idea of elevating a female talent to the director's chair of a film that will focus on female characters.
Playing it safe with a "well-established male director" hasn't exactly worked out well for the DC Extended Universe so far. Justice League, which should have been the crown jewel of the entire multifilm endeavor and an Avengers-size smash, faltered at the box office last year. Star-packed Suicide Squad was more successful financially but was a critical bomb. Audiences and critics alike agreed that its only salvation was the charm of Robbie's Quinn character. Amidst all of this, Wonder Woman, directed by another female director whose previous work was in indie cinema, became the franchise's only domestic blockbuster hit so far. Meanwhile, superhero archrival Marvel is basically minting money by handing superhero films to one unexpected director after another. So the stars were definitely in alignment for Yan, and the news shouldn't be that surprising, all things considered.
Yet, we are left with several question. Namely, who is Yan and which of the several rumored Quinn-centric projects is she helming?
What is "Untitled Girl Gang Movie"?
After the breakout success of the Quinn character, DC execs began spouting off various ideas of how to harness her popularity with a new film. Ideas ranged from the obvious (a direct Suicide Squad sequel and a film that would focus solely on Quinn and her abusive boyfriend the Joker) to more intriguing. One of those ideas would have been an adaptation of Gotham City Sirens, a comic book series that features Quinn, Poison Ivy, and Catwoman as a trio of antiheroines. The idea of bringing Catwoman into the new DC Universe is enough to intrigue even the most casual of superhero fans, and yet, apparently this is not that film.
Instead, Deadline says it's somewhat based on the comic book series Birds of Prey, which is notable considering Quinn is not actually a member of that group. In the comics, the group is centered around Batgirl and a rotating cast of other young female (often bird-themed) superheroes like Black Canary, Huntress, Lady Blackhawk, and Hawkgirl. The team was featured in a short-lived live-action series of the same name on the WB back in 2002. What's strange about all of this is Quinn is not traditionally a member of the group, while Batgirl, who is, is getting her own separate DC movie. Though that movie will be written by Christina Hodson, who is also writing the script for what is still officially known as "Untitled Girl Gang Movie."
Between what the Hollywood trades are reporting and what comic book fans are assuming on Twitter, everyone seems to be a bit confused. It's possible Quinn could serve as the antagonist for the traditional comic book team, or she could join them? Who knows?
What we do know is that this doesn't mean that other Quinn-centric movies are necessarily dead. Suicide Squad 2 will almost certainly happen, and Gotham City Sirens and the Quinn-and-Joker film are still possibilities as well.
So Who Is Cathy Yan?
You might not have heard of her yet, but she's actually a quite impressive polyglot with a sterling and varied resumé. According to her NYU profile, she was born in China and raised between Hong Kong and Washington, D.C. She was a magna cum laude graduate from Princeton University's Woodrow Wilson School of International and Public Affairs. After getting her bachelor's degree she ended up in the world of journalism and wrote multiple front-page stories for the Wall Street Journal while stationed in Hong Kong, New York, and Beijing. Eventually, however, she went back to school to get an MBA from NYU's business school, but also got a MFA in film as well.
She's directed a few short films, including According to My Mother, a pitch for a series about the strained relationship between an openly gay Korean-American man and his born-again Christian mother.
What Is This About Dead Pigs?
Well, it's Yan's feature debut. Yes, it is about a sudden mass die-off of pigs, but here's the official description:
"A bumbling pig farmer, a feisty salon owner, a sensitive busboy, an ambitious expat architect, and a disenchanted rich girl converge and collide as thousands of dead pigs float down the river towards a rapidly modernizing Shanghai, China."
There's not a traditional trailer online, but there is this clip:
It sounds and seems all very strange, but critics who saw it at Sundance loved it. It currently has a 100 percent rating on Rotten Tomatoes.
Variety wrote that it "is delightfully uneven, eagerly seesawing between screwy and serious, occasionally even daring to be ditzy." That reads like a line that could describe the character of Quinn as well, come to think of it.
The Hollywood Reporter called it "a dark, quirky comedy" and "genially offbeat and broadly relatable." The review also claims that the film has "the tantalizing potential to successfully appeal to both domestic and international audiences." Which, incidentally, is exactly the sort of thing studios want from major blockbusters nowadays as well.
Zazie Beetz, who will appear in the upcoming Deadpool sequel, was also a member of the film's cast.
Isn't it Weird to Hand Such a Big Movie to a Little-Known Director?
No, not at all, really. Tim Burton had developed a cult reputation thanks to his first two films, but wasn't exactly a safe bet, when he was charged with bringing Batman to the big screen for the first time back in 1989. David F. Sandberg, who will direct DCEU's upcoming Shazaam!, has just two films to his name. Wonder Woman's Jenkins hadn't directed a film since 2003's gritty indie Monster.
Meanwhile, Marvel has picked directors whose backgrounds are from sitcoms (Captain America: The Winter Soldier's The Russo Brothers), romantic comedy's (Ant-Man's Peyton Reed), quirky indie comedies (Thor: Rangnarok's Taika Waititi) and gritty indie dramas (Black Panther's Ryan Coogler). So there really is no prescribed path to successfully helming a superhero film, and maybe never was.
Picking a not-well-known director is hardly unusual, but giving an Asian-American female director the chance still is.