Bishop Briggs, Alt-Pop's Enigmatic Rising Star, Finally Opens Up
Ahead of her debut EP and her first headlining tour, the musician gets candid on her tattoos, her heartbreak, and her very long history with karaoke.
---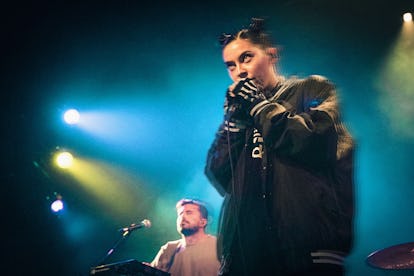 Rick Kern/Getty Images
Towards the end of March, the musician Bishop Briggs, 24, acquired her first tattoo: a snarling mountain lion, an illustration from a medicine card that frequently turned up for Briggs, and that signifies leadership. A week later, she added more ink: a heart-shaped face with a stricken expression, in tears. This one was impulsive, applied around 10 p.m. on a recent evening in early April, the product of an emotional week with a man she had been seeing.
"I'm 50 percent regretful," Briggs told me recently. On one hand, the tattoo seems to invite "creepy guys to hit on you," she said. But, at the same time, it's a reminder that Briggs's best songs are formed in her most vulnerable states.
This intimate songwriting practice infuses Briggs's upcoming debut EP, Bishop Briggs, out Friday. The six-song EP features three tracks previously released as singles ("Wild Horses," "River," "The Way I Do"), one unreleased track that will nevertheless be familiar to Briggs's fans ("Dead Man's Arms," a lynchpin of her live set), and two new tracks ("Dark Side," "The Fire"). Written over the course of the past year or so, during Briggs's breakthrough, the bloody, gothic lyrics are swaddled in heavy production. It's still pop, but dark pop.
The closing track, "The Fire," is a particularly vivid postmortem of a relationship, written just a few days after Briggs went through a major breakup last October. "Writing dark poetry was always my escape," she said. "I was sort of backed into a corner. I had no choice other than to write exactly what was going on, and just be very honest."
In conversation, Briggs comes across as a self-aware artist with a sensitive, if a bit melodramatic, soul. Describing her recent romantic tribulations, she told me, "He kind of broke my heart." She phrased it differently when she confronted him directly, though: "I said, 'I realized you broke my fragile heart,'" she recalled telling him, "which is, of course, so dramatic."
Briggs's candor now is all the more striking given that she first gained notoriety as a kind of enigma. She emerged into public consciousness on the strength of her single "River," which soundtracked an Acura commercial released in late 2015. (It's now coming up on three million plays on Soundcloud.) In early interviews, the 24-year-old even declined to reveal her real name. "There's a mystery surrounding Bishop Briggs," The Fader wrote. "Who's that girl Bishop?" Brooklyn magazine wondered about Briggs's Twitter and Instagram handles, @thatgirlbishop.
Yet while she's only achieved mainstream success in the past 18 months, Briggs—née Sarah McLaughlin, no relation to that Sarah McLachlan—has long dreamed of a career in music. She was born in London to Scottish parents (their hometown, Bishopbriggs, inspired her stage name) and moved to Tokyo as a child, where she lived for six years before her family decamped again to Hong Kong. In Tokyo, she frequented karaoke bars after school with her family and friends, for birthdays or just because. "I learned a lot about improvising," she recalled. "It also introduces a whole catalogue of music."
While her dad favored Frank Sinatra and her sister (now her day-to-day manager) opted for Backstreet Boys and Britney Spears, Briggs's go-to karaoke track was Whitney Houston's "Greatest Love of All." Those days still inform Briggs's music; the lyrics video for "Dead Man's Arms" is in the style of a karaoke video, while the diverse genres she loved growing up, especially Motown, still show up in songs like the gospel-tinged "The Way I Do."
But although Briggs whiled away hours in Sunday school writing dark poetry, it wasn't until she arrived in Los Angeles to attend the Musicians Institute that she connected her poetry with her flair for performance. Within two years, she was playing shows in L.A. clubs.
"I definitely didn't realize how depressing it would be," she told me. "You have to convince those around you that you're worth their time and energy, and that can be really taxing." After several years performing under her own name, everything suddenly happened at once: She was scouted by one-time Interscope A&R George Robertson; she recorded "River" and "Wild Horses"; and she adopted the name Bishop Briggs.
Nearly two years later, Bishop Briggs is palling around with Lil Yachty and Halsey, and she just wrapped up a tour in support of Coldplay—all before she's even put out a full-length album. This summer, she'll embark on her first headlining tour following the release of Bishop Briggs.
I saw her play in New York last fall, when she was opening for Kaleo; she paced back and forth across the stage, bobbing and weaving, rarely addressing the audience between songs and focusing much of her attention on her microphone, which she clutched between two hands. With her twin buns, chokers, and high-performance stage attire (she's rarely spotted without her signature Adidas track jacket), she cuts a distinctive silhouette. The look is sleek, fast, purposeful. (After all, she likes to say that the mountain lion on her forearm is her stage persona.)
When we spoke, Briggs had just emerged from a rehearsal in preparation for her tour. "It's a lot more high energy than ever before," she said. "This was the first time that I'm really going to be letting people in."
On National Youth HIV/AIDS Awareness Day, Mykki Blanco presents a new music video for "Hideaway," an artful exploration of HIV stigma: