Must See: "A New Novel" by Bjarne Melgaard
The New York-based Norweigan artist has transformed Luxembourg & Dayan gallery with his psychedelic installations and graphic vignettes depicting scenes influenced by his first book.
---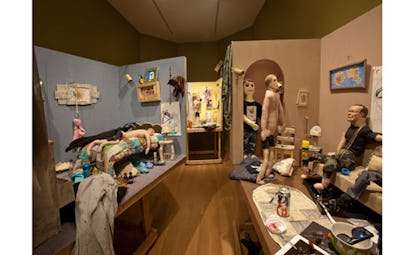 Art and literature have often influenced each other, but they go hand in hand with artist Bjarne Melgaard's exhibit, 'A New Novel,' at Luxembourg & Dayan. The show, as its name implies, is based around Melgaard's 'new novel,' published in Scandinavia but written in English, a first for the artist.
The novel centers on the protagonist's obsession with a doorman and the degrading and often graphic acts of a supporting set of characters. The exhibit serves as an immersion into the novel, as well as a jumping off point for Melgaard to continue his work on exploring the relationships between sex and violence, loneliness and love.
Inside the gallery's townhouse space, the first installation evokes a children's space: trippy drawings of the Pink Panther reimagined as characters from the novel line the walls, and every surface is covered in bright fabrics from previous Proenza Schouler collections (the result of the brand's collaboration with Melgaard). Stacks of the novel lie open on fabric-wrapped pillars and boxes, and vignettes depict dolls acting out scenes from the plot.
A second look, however, immediately reveals the more "adult" content. In one scene, for example, two male cloth dolls lie together in bed. One is facedown wearing a lace thong over his boxer shorts, his hands bound with a bowtie. The other male doll appears to have his hand in his underwear.
Sadomasochistic and violent undertones dominate many of the other vignettes, culminating in several dollhouse-like setups in the gallery's second floor. In one scene, set up as a diorama, a black-lighted bedroom setup features a fetish suit-clad figure stabbing a naked, supine male doll with a sharp metal hook. The room is scattered with drug paraphernalia: crack pipes sheathed in Tiffany & Co. dustbags and unopened bottles of amyl nitrate "poppers."
One key element that Melgaard manipulates throughout the show is scale: the dolls are appropriately sized for the spaces they occupy, but the objects have not been shrunken to fit. Normal-size bottles of lubricant and bottles of fragrance from L'Artisan Parfumeur crowd floor space in the bedroom vignette, while an array of La Mer products and real prescription bottles from a London pharmacy litter the bathroom.
The exhibit's most graphic moment comes via a stop-motion video, which depicts the dolls in a sex dungeon diorama acting out a particular sex act in a sex sling. The corresponding vignette, just a few feet away from the television setup, allows for a more in-depth look at the encounter.
Melgaard has created a hauntingly beautiful fantasy world, layered with pop-culture and fashion references and raw, seemingly depraved scenes that underscore the themes he sets out to explore.
Bjarne Melgaard: A New Novel is at Luxembourg & Dayan through December 22, 2012. Photos by Adam Reich. All images courtesy Bjarne Melgaard and Luxembourg Dayan.