Have Patience for the Owners of Black-Owned Bookstores
Black-owned businesses are asking for patience from customers as they rush to fill thousands of orders for sold-out products.
---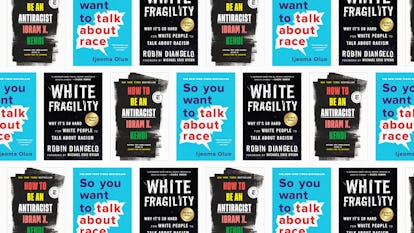 Collage by W magazine.
While many flock to support Black-owned businesses in an attempt to keep them afloat during the pandemic and operating in the future, some people are lashing out at the very stores they claim to support.
One Black-owned bookstore in Boston has been overwhelmed with the task of filling over 20,000 orders that have been placed since May 30, just five days after the killing of George Floyd galvanized the nation to participate in protests. According to a tweet documenting Frugal Bookstore's response to the orders, the shop is the only Black-owned bookstore in Boston.
10,000 of those orders had been placed by June 1, and 75% of all the 20,000 orders placed since May 30 are for the same 10 titles that have quickly sold out at many bookstores around the country. The publishers of those books have begun the process of reprinting more copies. However, Frugal Bookstore isn't the only Black-owned shop overwhelmed with orders, according to a statement from the shop.
One might think that it's a good problem for a store to have received so many orders that they can barely fill them in time, but Frugal Bookstore insists the contrary. It's been difficult to fill over 20,000 orders within the past three weeks, and many bookstores are asking for support from publishers aiming to reprint titles and patience from their customers. In Frugal's case, many customers have sent angry emails criticizing their customer service and demanding to cancel their orders. "We do hope each and every one of you who has shown us support by purchasing through our website believe we are not accepting your money with the intention to keep it and not send out your orders," they wrote.
It's probable that the titles in question are some of the many books that have been recommended on anti-racist reading lists in the past few weeks, which most notably have included Ibram X. Kendi's How to Be an Antiracist, Ijeoma Oluo's So You Want to Talk About Race, and Robin DiAngelo's White Fragility. People are rushing to read these books in an attempt to quickly understand this country's history with racism and their place within it, and in their attempts to quickly "solve" their problem, they are ironically reacting with impatience and frustration directed at the wrong people.
This issue can extend beyond books, too—even some products sold by businesses on Beyoncé's "Black Parade" directory listed on her website have been listed as sold out, and many business owners find it unfortunate that it took the tragedy of Floyd's death to encourage people to finally start shopping at Black-owned businesses. There has even been some discourse surrounding the limitations of an "anti-racist reading list" and the work it can do—if you aren't also reading books by Black authors that are not necessarily guides to combating racism but are varying portraits of Black life, how can you develop empathy for Black people and truly be anti-racist?
But as comedian Phoebe Robinson wrote on Instagram, you can't participate in this revolution and expect "fast results, placation, and easy wins as signs of progress." It will take time to dismantle systemic racism, it will take time for people to receive the books they ordered that might offer them insight into how to do so, and it will take time for them to actually read and digest and put into action what they have learned.
Related: Required Reading on Race, According to Black-Owned Indie Booksellers