Leslie Jones Also Did Commentary For the Black Panther Premiere at MoMA
The comedian was the biggest supporter of Black Panther during a screening of its New York premiere.
---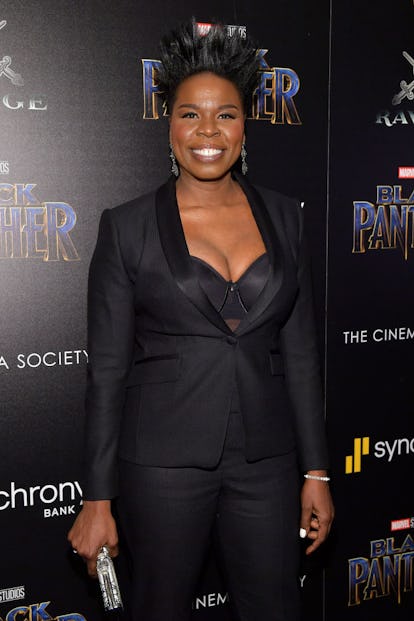 Roy Rochlin/Getty
You may want to hire Leslie Jones to narrate your entire life. If you haven't done your due diligence as a citizen of this world to witness Olympics coverage from Leslie Jones, then you need to direct yourself to her Twitter account, where she posts videos of the Olympic Games that she has recorded with her phone, soundtracked with her hilarious narration of the events. Then you'll understand why, At the New York premiere of Black Panther on Tuesday night at the Museum of Modern Art, no one was a bigger supporter of Black Panther than the comedian. Of course, it is fitting then that the Saturday Night Live cast member would give a lively review of none other than Black Panther—not only on Twitter, but during the screening of the film as well.
Everyone from Tyra Banks to Al Sharpton to Vic Mensa showed up to witness one of the biggest cultural moments happening in Hollywood, and the cast and director Ryan Coogler were present to introduce the film to the crowd of A-listers. "Having made three films so far, this is the one that gave me the most back as an artist," Coogler said before the film started.
During a handful of fight scenes (don't worry, there will be no spoilers here), Jones reacted to the action with an animated "Get him!" and a few whoops, after which the entire theater roared with applause and laughter. It would be impossible not to love and cheer Jones on for her response to the film, with the scene-stealing Letitia Wright cracking jokes as Wakanda's techie Princess Shuri and Michael B. Jordan analyzing the degradation of black people across the world as the radical Erik Killmonger. A lively, responsive crowd is exactly the type of audience you want for Black Panther and its glorious display of ambition and excellence, and Jones delivered the commentary everyone needed to hear.
After excitedly standing and remaining in her aisle for the post credits sequences (real Marvel fans know you have to stick around for those if you want to get a glimpse of the sequels to come), Jones joined the cast and guests of the screening at the Skylark for the after party, then went home to continue her online Olympics commentary. "This is exactly how I'ma jump into my bed tonight because I am exhausted. Bam! Then I'ma be knocked the f–k out," she narrated over a video of snowboarder Shaun White landing a trick.
Related: Black Panther Breakthrough Star Letitia Wright on How She Became Shuri, Wakanda's Brainy Princess