Black Panther Breakthrough Star Letitia Wright on How She Became Shuri, Wakanda's Brainy Princess
Among the serious power players in Black Panther, the actress comes across as one cool cat.
---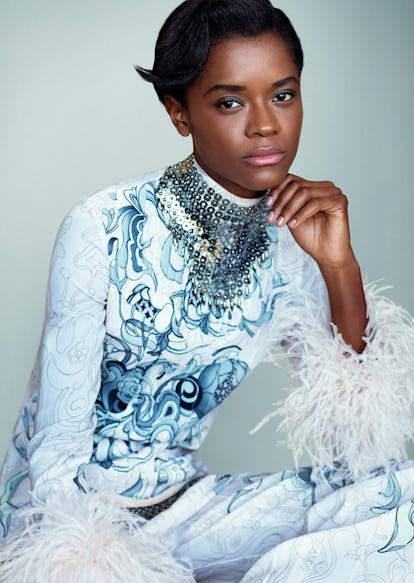 Photograph by Thomas Whiteside; Styled by Deborah Afshani; Hair by Ramsell Martinez for R+Co. at Lowe & Co; Makeup by Lottie for CHANEL at Lowe & Co; Manicure by Marisa Carmichael for CHANEL at Lowe & Co
In Wakanda, the fictional African utopia of Marvel's Black Panther, the monarch is a king named T'Challa, but women really run the kingdom. They are the healers, the scientists, and the warriors in this high-tech haven—sometimes all three. And amid a cast stacked with powerhouse actresses like Angela Bassett, Danai Gurira, and Lupita N'yongo, newcomer Letitia Wright makes a strong and surprising impression as T'Challa's younger sister, the princess Shuri. "Wherever the good stories are, I'm trying to place myself there," Wright tells me succinctly.
The 24-year-old actress, who was born in Guyana in South America and raised in London, certainly has an eye for material: She's having a breakout year on the strength of parts in sci-fi projects like Black Mirror and Steven Spielberg's forthcoming fantasy epic Ready Player One. Her gravitation toward prestige fantasy projects wasn't intentional. Indeed, Wright is quick to mention intimate indie films like Juno or Ratcatcher, Lynne Ramsay's first feature, as among her favorites. For the moment, though, "[Sci-fi] is where I find the good stories, really," she says.
Clearly, audiences agree: Black Panther has smashed advance ticket sales records, and is poised to become Marvel's next hit franchise even before its release. In Wright's star turn in the film, she plays a brainy, charming scientist equally capable of wielding a weapon as well as a wit that's sharp enough to puncture the vibranium seriousness of her older brother, the king and titular Black Panther (Chadwick Boseman). Wright is already getting numerous mentions as one of the film's scene-stealers—even if, as she says, "I'm not really wanting to be famous."
Thoughtful and soft-spoken, Wright counts herself an admirer of actresses like Naomie Harris, as well as Viola Davis for her dedication and "just telling the truth all the time." Wright remembers growing up in Guyana for its sense of community, but it was when she moved to London that she decided she wanted to act. She became determined to embark on this path after seeing the 2006 film Akeelah and the Bee. "I wanted to tell stories like that," Wright recalls. "I wanted to be captured in a weird camera thing that records." As a teenager, she quickly landed roles on television shows like the British cult comedy Cucumber and its companion series Banana, as well as a starring role in the 2015 film Urban Hymn. After her early brushes with success, though, Wright went on a hiatus from acting when barely out of her teenage years. "I was pretty much obsessed with acting, and it became my world," she explains now. "It became what I used to be happy." Faith, however, is what ultimately centered her. "I said, 'Okay, Jesus, I'll try you,' and I haven't looked back since," she says. "I don't really consider myself religious. I view it more as a relationship," she adds, with a laugh. "And if anyone thinks that's weird, then okay."
It's useful to be able to ground oneself as an up-and-coming talent, not least of all on a blockbuster Marvel set. "With Black Panther, it was like stepping up to the plate, working crazy hours, and still bringing your best to the table every time," Wright recalls. She notes that filming her role in Ready Player One, which she wrapped just before Black Panther, gave her an insight into the intensity of a big-budget production—and how the greats do modesty. She remembers meeting Steven Spielberg in person for the first time: "He can still humbly come up to someone who he doesn't know, and say, 'Hello, my name's Steven,'" she says. "And to me that was just a really dope moment."